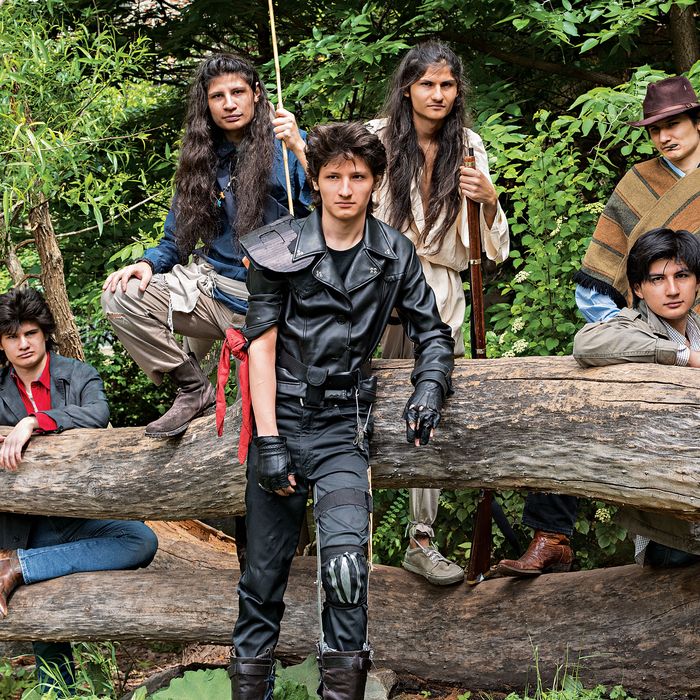 From left, Glenn (formerly Krsna) as Mel Gibson in Lethal Weapon, Mukunda as Russell Means in The Last of the Mohicans, Eddie (formerly Jagadisa) as Mel Gibson in Mad Max, Narayana as Daniel Day-Lewis in The Last of the Mohicans, Bhagavan as Clint Eastwood in The Good, the Bad and the Ugly, Govinda as Robert De Niro in Taxi Driver.
Photo: Justine Kurland
How do you relate to the world when you're not allowed outdoors? Crystal Moselle's new documentary, The Wolfpack, follows the six Angulo brothers — from oldest to youngest: Bhagavan, twins Govinda and Narayana, Mukunda, Krsna, and Jagadisa — whose father, a Peruvian Krishna devotee, forbade them from leaving the tiny Lower East Side apartment in which they were raised. (He thought the city would "contaminate" them.)
They could watch DVDs, though, and over the years they saw thousands of films, which became their windows on the world. Imperfect windows, to be sure: "We grew up on action movies — Schwarzenegger, Bruce Willis, the original Batman franchise," says Narayana, 22. But they didn't just watch the movies; they re-created them. Using their parents' camcorder, they shot obsessively faithful versions of their favorite films — including GoodFellas, The Dark Knight, and Pulp Fiction — with each brother playing multiple roles and wearing homemade costumes, a few of which they modeled for New York. (Moselle first encountered the Angulos when she passed by them on the street in 2010, during one of their rare forays outside. They were dressed like characters from Reservoir Dogs.)
"We want to get the details precisely right," says Mukunda, 20, who still lives in the apartment (just Govinda, 22, has moved out). When they remade Predator, the Angulos had only ever seen an edited version on TV — no gore or profanity. "We couldn't see how everybody got killed off," recalls Mukunda. "So we made up our own story." But when they finally did see the full R-rated version, he says, "We were pretty close."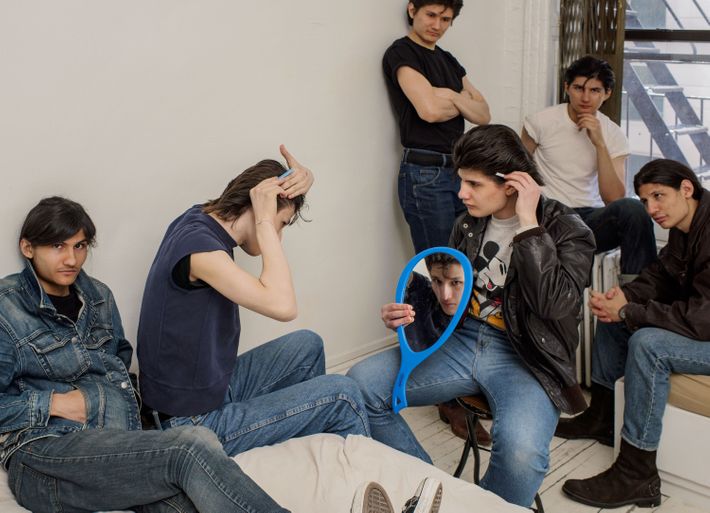 *This article appears in the June 1, 2015 issue of New York Magazine.