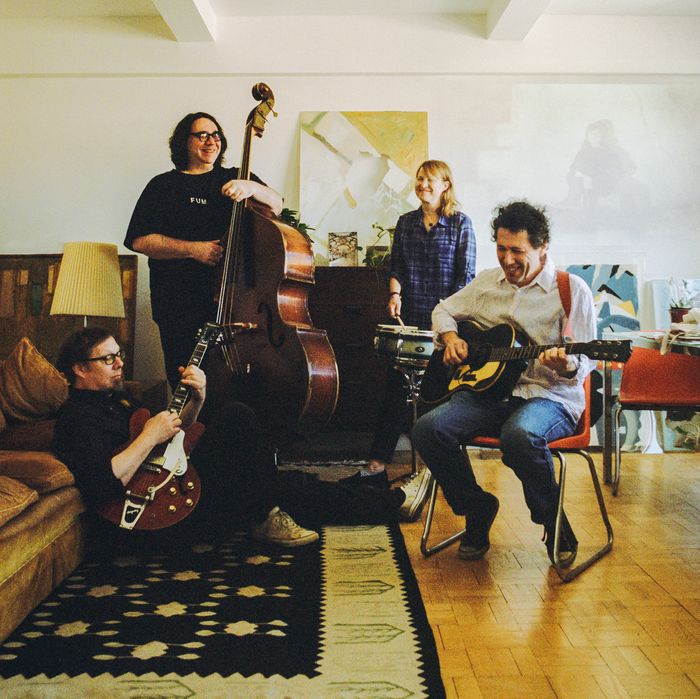 Photo: Yo La Tengo/Matador Records
"Deeper Into Movies," from Yo La Tengo's 1997 album I Can Hear the Heart Beating As One, is a fuzzy guitar song with lots of drums. A new version, premiering here on Vulture, is on the band's forthcoming album Stuff Like That There (out August 28 on Matador), and is much more subdued. Band member Ira Kaplan says it happened that way almost by accident. "When we recorded it, Georgia [Hubley, who is Kaplan's wife] played drums," he recalled during a recent phone interview. "One day we were working on it in the studio, quickly throwing up faders to hear something, and just accidentally, the drum faders weren't thrown up, and it sounded great without drums." The edit gives the newly reimagined recording of the song a quiet, folksy mood that is very different from the original.
Yo La Tengo have always felt comfortable revisiting their own music. As far back as 1989, the band rerecorded a four-minute guitar freakout "The Evil That Men Do" from their debut album Ride the Tiger as an instrumental surf song for their third, President Yo La Tengo. The band isn't afraid to take on other people's material, either. Stuff Like That There includes nine covers, including "Friday I'm in Love" by the Cure and Hank Williams's "I'm So Lonesome I Could Cry." "In 1994, we opened three shows for Johnny Cash, and 'I'm So Lonesome' was one of the songs we thought his audience might appreciate," Kaplan says, adding, "I think we were wrong about that."
A few of the covers are songs the band has never played before. "Naples" by Antietam, "I Can Feel the Ice Melting" by the Parliaments, and "My Heart's Not in It" by Darlene McCrea are all examples of songs the band learned to play for this record. Stuff Like That There is being billed as a 25th-anniversary sequel to Fakebook, a previous compilation of cover songs and a handful of originals that the band released in 1990. (Stuff Like That There was recorded with a four-piece lineup: Kaplan, Hubley, James McNew — who taught himself upright bass for this record — and Dave Schramm; and the same producer, Gene Holder of the dB's.) To stay within that format, Kaplan says, the band included two originals here as well.
Yo La Tengo begins touring in support of Stuff Like That There later this month, with limited dates across the country. "We are going to do some touring, but not the usual amount," says Kaplan, who also says the band's legendary annual Hanukkah shows aren't on the schedule. "It's pretty unlikely we're going to do them this year. I don't know if and when we're going to do them again." They have plenty to keep them busy. Kaplan says a new Condo Fucks — Yo La Tengo's alter ego in the form of a punk-rock cover band — record feels inevitable, Hubley has a side project called Little Black Egg, and Kaplan is also a fill-in DJ for WFMU in New Jersey in his spare time. "We've always got something," he says.

Stuff Like That There tracklist:
1. My Heart's Not in It (Darlene McCrea)
2. Rickety
3. I'm So Lonesome I Could Cry (Hank Williams)
4. All Your Secrets
5. The Ballad of Red Buckets
6. Friday I'm in Love (The Cure)
7. Before We Stopped to Think (Great Plains)
8. Butchie's Tune (The Lovin' Spoonful)
9. Automatic Doom (Special Pillow)
10. Awhileaway
11. I Can Feel the Ice Melting (The Parliaments)
12. Naples (Antietam)
13. Deeper Into Movies
14. Somebody's in Love (The Cosmic Rays with Le Sun Ra and Arkestra)