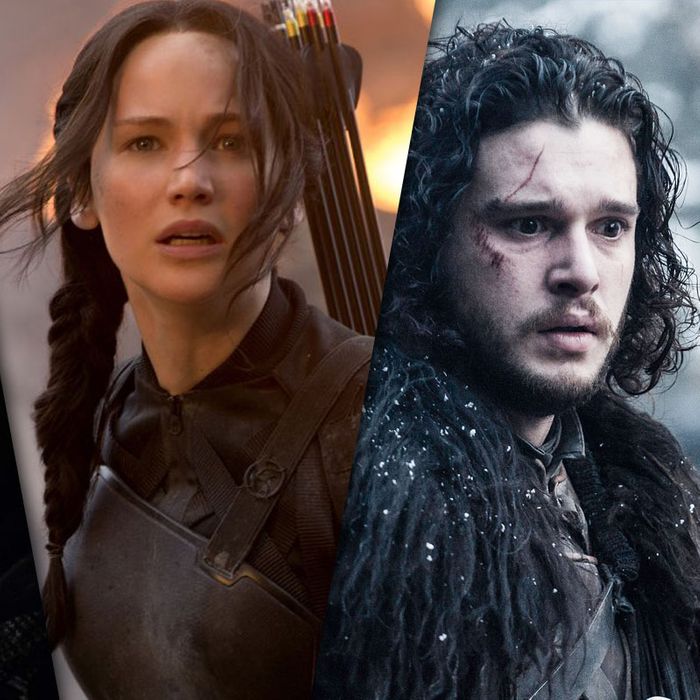 Photo: DC Entertainment, Lionsgate, HBO
Your intrepid editors at Vulture are headed to Comic-Con this week, and we'll be bringing you all the big news from Hall H that's fit to print (as well as all the other gossip we can pick up while roaming incognito in our chrome stormtrooper outfits). What big properties will make a showing in San Diego, and what are we hoping to learn about them? Here are ten questions we're hoping to get answers to by Sunday.
Who Will Lucasfilm Bring?
Star Wars fans were thrilled for the Lucasfilm panel this Friday … until news broke that the studio wouldn't be debuting a new trailer or any sort of clips at the Con. However, that doesn't mean they won't bring some surprises, and we expect to see some of the stars who weren't at the recent Star Wars Celebration: Namely, the villains, played by actors like Adam Driver, Andy Serkis, and Gwendoline Christie. (Although if they want to bring the already-introduced BB-8 to San Diego, too, we wouldn't complain!)

Will Ben Affleck Look Happy to Be There?
Last year, Warner Bros. brought Ben Affleck out onstage for a wordless appearance to promote Batman v Superman: Dawn of Justice, and the actor looked like he'd rather be anywhere else. Affleck will almost certainly be back in Hall H this week, and now the timing is truly unfortunate: This will be the first time he's stepped out since his headline-making split from wife Jennifer Garner. Will he suck it up and show some enthusiasm? Or better yet, will WB announce that Affleck is directing his own stand-alone Batman film, as rumored?

Is Jon Snow Alive?
This is the biggest question going into season six of Game of Thrones, and fans have already begun obsessing over Kit Harington's hair length for clues. But even beyond the question of whether Jon lives or dies, the Game of Thrones panel should be an interesting one: This past season was awfully contentious, and now that the show has caught up to George R.R. Martin's books, nearly any tease of the next season will offer up some next-level spoilers.

Will This Be Jennifer Lawrence's Last Comic-Con?
As the First Lady of two major genre franchises, Jennifer Lawrence is no stranger to Comic-Con, but her time onboard both The Hunger Games and the X-Men series is about to come to a close. Consider this her farewell (for now) tour, then, and expect Lawrence to bring her trademark sense of humor to the panels for both Mockingjay — Part 2 and X-Men: Apocalypse.

Will the Walking Dead Spinoff Succeed?
The biggest hit on television is about to spawn a spinoff, but will Fear the Walking Dead (which takes place prior to the zombie apocalypse that launched its mothership show) dilute the franchise, or expand this property into a nearly year-round juggernaut for AMC, which could badly use another marquee hit? We'll see at Comic-Con, when both Dead shows storm Hall H.

Who Is Channing Tatum Playing in The Hateful Eight?
Can it be that Channing just completed a Magic Mike XXL press tour and no one asked him about his mystery role in Quentin Tarantino's new Western? We'll see whether QT gives up the goods himself when the director and most of his titular eight take the stage in Hall H, but Tarantino is always a highly quotable raconteur at the very least.

Will Warcraft Be the First Major Video-Game Blockbuster?
Almost every major comic-book hero has been mined for the movies by now, but the gold rush still hasn't quite come in for video-game properties: Even the most successful movies based on video games haven't yet set the world on fire. Enter Warcraft, which is due next year and is based on one of the biggest, most successful games of all time. Legendary has shown only a little bit from this long-in-the-works Duncan Jones–directed adaptation, but expect a full-court press this week that could kick off a whole new era of video-game megamovies.

Will Ryan Murphy's Horror Shows Be a Hit?
Fox has pulled out all the stops to promote Ryan Murphy's new sorority slasher Scream Queens, and the prolific producer and his cast will be trekking down to Comic-Con to further the hype. But we're also interested to see what Murphy might reveal about American Horror Story: Hotel, after a season of Freak Show that lost leading lady Jessica Lange and had some fans grumbling. If Hotel star Lady Gaga takes the stage with some of her handsome co-stars — including Matt Bomer, Wes Bentley, and Finn Wittrock — expect even more shrieks.

How is Joss Whedon Feeling Post-Ultron?
Marvel traditionally holds its big Hall H panel on Saturday evening, but the studio eschewed the Con this year. Still, expect a whole lot of Marvel Studios dish regardless, as Age of Ultron director Joss Whedon takes the stage that day for his own Hall H panel. Whedon hardly held back on his Ultron press tour, so it's anyone's guess what he'll say this week. (Let's hope he's gotten some sleep since then, at least.)

Can Fox Bat Back the Fantastic Four Rumors?
This ought to be the biggest year of Josh Trank's life, but the embattled Chronicle director hasn't had it easy in the press: Rumors flew that he was difficult to work with while shooting Fox's reboot of Fantastic Four, and not long after he proved to be a no-show at Star Wars Celebration, he was officially dropped from directing one of that outer-space franchise's upcoming spinoffs. Will Trank be present at Comic-Con's Fox panel this weekend? A triumphant scene or new trailer for Fantastic Four could be all he needs to start crafting a new narrative.