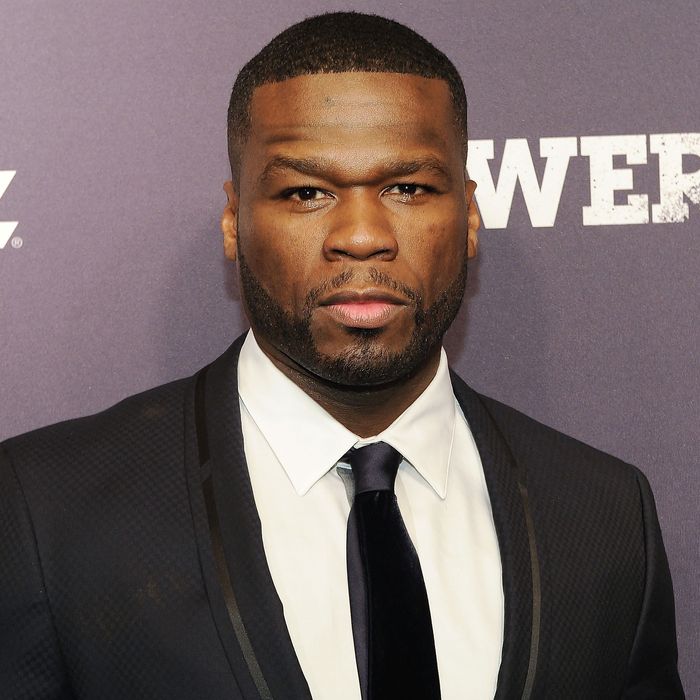 Photo: Daniel Zuchnik/Getty Images
50 Cent is weeping big-money crocodile tears: That's the gossip media's take on the rapper/water mogul/unbreakable man, who filed for bankruptcy in a Connecticut court on the same day he was due to appear before a judge in New York regarding a sex-tape dispute involving the rapper Rick Ross. (We've all been there.)
The rapper, offstage name Curtis Jackson, "is crying broke after filing for bankruptcy on Monday," reads one typical critique. "Jackson is advised to scrub his social media accounts of all photos displaying obscene amounts of cash," such as one showing him "stuffing $2 million in cash into the trunk of his Lamborghini." 50 Cent "was supposed to provide the judge of his sex-tape trial with a statement of his net worth this morning," says another, "but instead he decided to hand them a copy of his bankruptcy notice and ask if he could bum $0.50 for a coffee." 
It's an understandable hot take. Jackson was reportedly worth a half-billion dollars at one point. Just last week, the New York Times ran a story claiming, "It is well known that Mr. Jackson, 40, has exceptional business instincts." He has all that Vitaminwater money. Just this year, Forbes estimated his net worth at $155 million!
But not so fast. Two things seem to be happening with Jackson's finances. The first is that he honestly seems not to be as rich as he once was. In the bankruptcy filing, he reported both assets and debts of between $10 and $50 million, giving his potential net worth a ceiling of just $40 million and a floor $40 million in the red. Several of his business ventures have obviously gone south: He owes a court-ordered $17 million to an audio company in a dispute over a headphone deal. His boxing-promotion business filed for bankruptcy earlier this year. Frigo underwear, Effen vodka, and SMS Audio — three of his main business ventures at the moment — aren't exactly Fruit of the Loom, Coca-Cola, or Beats. His record sales aren't what they used to be, either.  
At the same time, 50 has shown an all-American aptitude for living very, very large: "I'm rich now, niggas know about my dividends. Look at the Robb Report, check out what I'm living in," he has boasted, which is not exactly a Bogle-approved wealth-building strategy. He owns a 50,000-square-foot house. He puts photographs like this up on Instagram:
A life like that does not come cheap.
"What we see over and over again are rap artists joining the great American tradition of being exploited, climbing out of that exploitation and being an entrepreneur and creating equity, the great American tradition of amassing wealth and the great American tradition of squandering it," Dan Charnas, the author of a book about money and rap, told the Journal.
The second is that the bankruptcy filing is not really him claiming poverty. It is a strategic move designed to give 50 Cent time to shelter and rearrange his assets while working to negotiate and pay off his debts. Notably, Jackson filed for Chapter 11 bankruptcy protection, not Chapter 7. The latter involves liquidating a family's assets and then giving the proceeds to its creditors. It's a fire sale. The family is generally left broke. The former involves restructuring a family's assets and then giving proceeds to the creditors. It's supposed to preserve what the family has while paying off whoever needs to be paid off.
"This filing for personal bankruptcy protection permits Mr. Jackson to continue his involvement with various business interests and continue his work as an entertainer, while he pursues an orderly reorganization of his financial affairs," Jackson's lawyer told news outlets in a statement. Does that mean he's "faking" his bankruptcy? Not really. It probably means that his assets are illiquid, that selling them quickly might seriously harm their value, and that he needs time to amass the cash to pay what he owes. A bankruptcy trustee will oversee his affairs to make sure that happens, and Jackson hasn't wriggled out from under any of his legal obligations to pay up by filing for Chapter 11.
"I don't know what you heard about me," he once said. "But a bitch can't get a dollar out of me." Perhaps not. But the courts very much can.