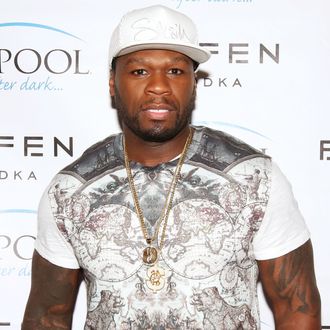 Go broke or die trying?
Photo: Tom Briglia/Getty Images
It appears 50 Cent no longer gets money: The rapper turned entrepreneur (née Curtis Jackson) filed for Chapter 11 bankruptcy protection on Monday in U.S. Bankruptcy Court in Hartford, Connecticut. Jackson reported his assets and debts each in the range of $10 to $50 million, a much different story from the $155 million Forbes estimated his earnings at for this year's list of hip-hop's five wealthiest artists. In 2007, 50 Cent reportedly made $100 million for selling Vitaminwater to Coca-Cola, and has since branched out with SMS headphones, Effen vodka, and Frigo underwear. He is also an executive producer for the Starz hit Power. Last year, Jackson reportedly lost more than $16 million in a lawsuit filed against him by earphone company Sleek Audio. And on Friday, a Manhattan jury ordered Jackson to pay $5 million to the mother of rapper Rick Ross's child following a 2009 sex tape 50 Cent leaked of the woman and her boyfriend.