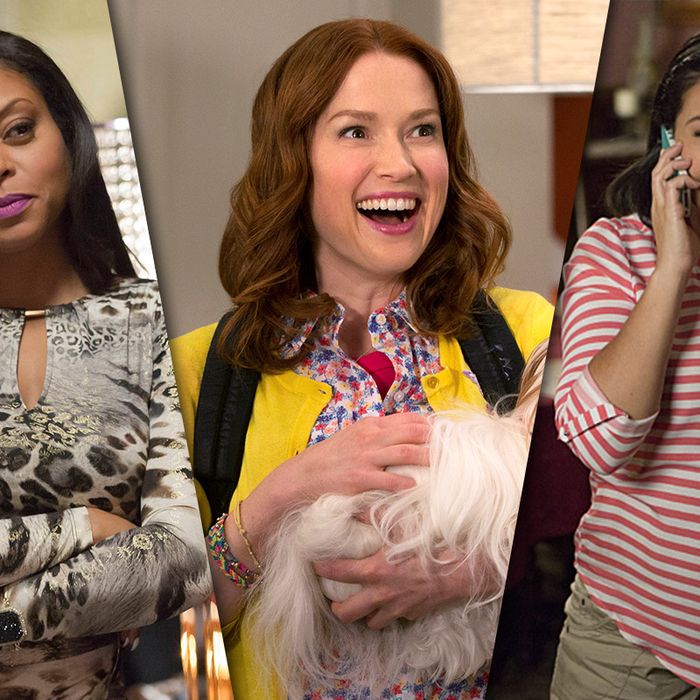 Three future Emmy winners?
Photo: Chuck Hodes/FOX, Eric Liebowitz/Netflix, Aaron Epstein/The CW
The 2015 Emmy nominations will be announced tomorrow, which means hundreds of TV-industry types will be tossing and turning tonight ahead of the big reveal. The good news: Those Hollywood types won't have to get up at the crack of dawn to have their dreams shattered, since the list of honorees will be unveiled a few hours later than usual, at 8:30 a.m. Los Angeles time. (You can watch a livestream of the ceremony, and be sure to check back here for the full list of nominees and our complete coverage.) At this late hour we're not going to bother trying to make predictions about what TV Academy voters will do, since we'll all know soon enough which actors and shows they decided to snub in order to unnecessarily stroke the egos of more familiar faces. What we can do is shine a light on seven of the biggest mysteries surrounding this year's race — some of which will likely remain talking points well after the nominees have been announced.
Will TV's year of diversity be reflected in the nominations?
Emmy voters typically rationalize the often-very-white makeup of their nomination roster by saying it reflects what networks are programming. Well, while the 2014–'15 season didn't suddenly turn prime-time TV into a mirror of our nation's diversity, strides were made — and many of the most diverse shows introduced last year happened to be really good (or at least really compelling). ABC alone had hits with new comedies Fresh Off the Boat and Black-ish, while the Viola Davis–led How to Get Away With Murder was the biggest hit of 2014. And the biggest hit of the entire season — hell, the decade — was Fox's Empire, which featured a mostly African-American cast. The CW's Jane the Virgin, with its mostly Latino cast, was also among the best-reviewed shows on TV last season. Throw in returning shows such as Orange Is the New Black and Scandal, and Emmy voters have an abundance of credible choices if they want to produce a diverse crop of nominees. The outstanding comedy and drama series categories seem likely to be filled with previously nominated shows, which means change — if it comes — will happen in the acting, writing, and directing categories.

Can the women of Comedy Central get their due?
Inside Amy Schumer got a writing nomination last year, but nothing more. Now that buzz around the show and its creator and star has exploded in recent months, it's reasonable to hope that Emmy voters will give it the respect it deserves. (Can there be a special award just for the "12 Angry Men" episode?) Schumer's chances should also be boosted by the fact that this year the TV Academy is splitting up the sketch comedy and late-night talk-show categories, which means she won't have to worry about the final full seasons of The Daily Show or The Colbert Report taking away votes. Schumer might have a tougher time breaking into the acting category, which includes all comedy actors. Likewise, Broad City is a long shot for a nomination since it's competing in the traditional comedy series category, where Modern Family is constitutionally guaranteed a nomination.

Will streaming networks overtake basic cable as awards magnets?
Netflix has already proven Emmy voters don't care a lick about TV shows that don't actually air on a TV network. This year, however, offers the possibility of an even bigger surge for streaming players, a development that could cost Emmy players such as AMC, A&E, and FX some nominations. Assuming House of Cards and Orange Is the New Black match or better their performances from last year — not a sure thing, by the way, particularly with Cards — there are about a half dozen other digital shows that could rack up multiple nominations. The favorite to do so, of course, is Amazon's Transparent, which did well at the Golden Globes in January. But Netflix has also gotten great buzz for Unbreakable Kimmy Schmidt, produced by Emmy darling duo Tina Fey and Robert Carlock. (Editorial aside: How amazing would it be if Tituss Burgess got a nomination?) Likewise, you know one of the reasons Netflix ordered Grace and Frankie was because of the possibility of Lily Tomlin and Jane Fonda walking the Emmy red carpet in September. Several Bloodline cast members also are Emmy vets (though the show has zero chance of a best drama nomination). And it wouldn't be shocking (or a bad thing) if BoJack Horseman ended up with a nomination in the animation category, or if some of Netflix's more visually ambitious series — Sense8, Daredevil, Marco Polo — landed some tech nominations.

Will broadcast networks be rewarded for taking chances?
The Big Four may still have bigger ratings, but they've increasingly become also-rans during award seasons. Voters these days seem more likely to nominate something from a sexy new streaming network or a tiny cable channel than to honor a well-done network show. But maybe that will change tomorrow, thanks to an unusually large number of broadcast shows that seemed designed to be Emmy bait. ABC's American Crime, for example, was a show that executives at the Alphabet network repeatedly referred to as "cable-quality." (Helping the case: It starred Emmy darling Felicity Huffman.) Fox's The Last Man on Earth was bold and daring and dismissed by many TV-industry types as a "cable" show unlikely to draw an audience on a big network. Early episodes got rave reviews, and while some critics bailed later, those who watched the full season were treated to a half-hour that would've easily been at home on HBO or Showtime. NBC's The Slap was such a ratings disaster that it'll probably be forgotten by Emmy voters, but it was put on the air in part because Peacock suits felt they needed to play in the "prestige" drama game. Meanwhile, several other new broadcast shows might not have been tailored to woo Emmy voters — the aforementioned Fresh Off the Boat and Jane the Virgin come to mind — but they turned out so well, they'd seem to be contenders. If they're all snubbed, it could be a sign that Emmy voters do indeed have an anti-broadcast bias.

Whither The Americans?
Apparently feeling no shame for their neglect of The Wire back in the day, current Emmy voters have seemed content to ignore FX's critically acclaimed The Americans, a show whose modest ratings could only be helped by the buzz and attention some Emmy nominations would provide. In addition to wondering whether this will finally be the year our favorite Soviet spies come in from the cold, we're also fearful that another snub might prompt FX to move on and make the upcoming fourth season the show's last. (There's no evidence to suggest any such contingency exists, only our paranoia, comrades.)

Does the CW have a breakthrough year?
The Emmys have long had no use for the smallest broadcast networks. In their day, the WB and UPN were forever slighted, even when they did shows such as Buffy the Vampire Slayer or Felicity. Likewise, the CW has been ignored during its decade or so on the air. As we noted above, Jane could be the show that lets the CW jump over the mini-network hurdle. We're also curious whether or not the CW cleans up in the tech Emmys with its well-reviewed and very popular superhero shows (The Flash and Arrow, specifically).

Are voters in the reality-competition category even watching anything new?
We loved The Amazing Race, too, back in the early days of the George W. Bush administration. But there are new and good unscripted shows to choose from, dear TV Academy friends. ABC's The Quest was so little seen and little reported on, we're not actually expecting to see it nominated Thursday (though its ambition and heart make it worthy of such love). On the other hand, Starz's The Chair drew raves and got some decent buzz. If it's overlooked, too? We'll be convinced nobody in the TV Academy even bothers to watch their unscripted screeners.