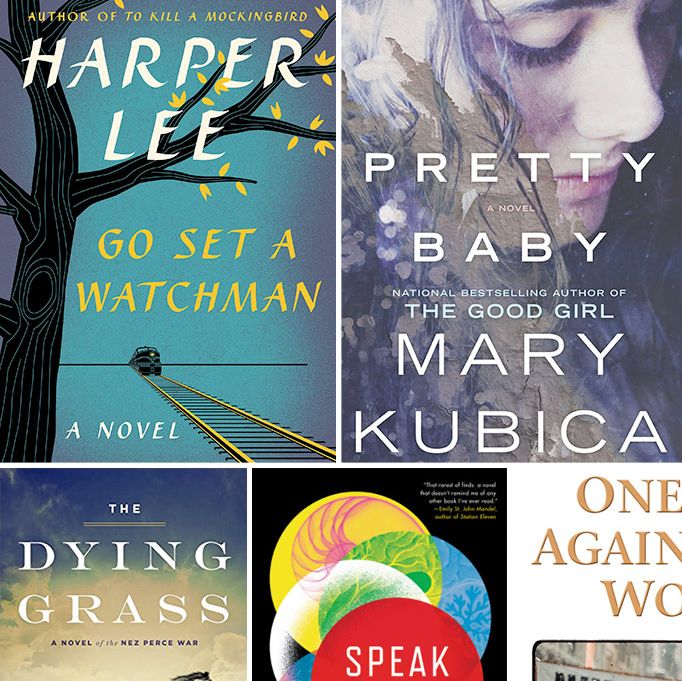 Each month, Boris Kachka offers nonfiction and fiction book recommendations. You should read as many of them as possible.
One Man Against the World: The Tragedy of Richard Nixon, by Tim Weiner (Henry Holt, July 21)
Using recently declassified tapes and documents, the author of the award-winning CIA exposé Legacy of Ashes buries any dying hope Nixon might have had of rising from the ranks of America's worst presidents. Even Tricky Dick's accomplishments are diminished to nothing — or worse — in the full context of his power grabs, secret plots, and cynical political ploys. Bigoted, paranoid, drunk, and dangerous, Nixon was hardly unique in the world, but the fact that he ran the country makes this far more than a personal indictment; the tragedy of the title is ours.
Speak, by Louisa Hall (Ecco, July 7)
The structure of Hall's second novel — six narratives scattered across four centuries, from a young pilgrim's diary to the 2040 confessions of an entrepreneur imprisoned for building creepy robots — has already drawn obvious comparisons to David Mitchell's Cloud Atlas. But Hall's voices, which constitute a fragmented alternate history of artificial intelligence, are more earthbound than Mitchell's. In journal entries, unanswered letters, and the occasional computer testimonial, explorers of all kinds are overheard speaking into the void, ruminating on lost memories, missed connections, and the fatal flaws of men and their machines.
Mirages of the Mind, by Mushtaq Ahmed Yousufi, trans. by Matt Reeck and Aftab Ahmad (New Directions, July 7)
At 91, Pakistan's famous comic writer is finally being published in the U.S. The translation of this 1990 mosaic novel-of-stories, which tracks the recollected journeys of an Indian-born Muslim who fled to Karachi after the Partition, bears little resemblance to the mythopoetic tomes we've come to expect from the subcontinent. Like a South Asian Milan Kundera, Yousufi combines philosophy and human insight with bittersweet irony.
Go Set a Watchman, by Harper Lee (HarperCollins, July 14)
Regardless of the circumstances of its rediscovery and publication — or even, maybe, of its quality — the 89-year-old author's "prequel" to To Kill a Mockingbird (actually a precursor draft) will be an important cultural document. Embargoed until publication, this more directly personal novel features a full-grown Scout in the "present" of the early 1960s, trying to balance her progressive New York life with the pull of family and history back in segregated Alabama. It could tell us more about its beloved author's experiences and attitudes than anyone has to date.
ZeroZeroZero, by Roberto Saviano, trans. by Virginia Jewiss (Penguin Press, July 15)
The Italian journalist's last book, the Neapolitan mafia chronicle Gomorrah, merited worldwide praise, a movie deal, death threats, and 24-hour police protection. So maybe Saviano didn't have much more to lose by turning here to the global trade in cocaine, with a particular focus on Mexico's brutal syndicates and the international banking system that tacitly supports them. His facts are brilliantly woven into seamless, immersive storytelling — New Journalism with better sources and more backbone.
The Dying Grass, by William T. Vollmann (Viking, July 28)
If you're going to read one polyphonic 1,300-page war saga this month — well, you won't have time for much else. That said, 200 of those pages are notes, and Vollman's account of the atrocious, misbegotten Nez Perce War coheres in surprising and ingenious ways (few writers have made better use of indentation). Homing in on the American general Oliver Otis Howard but making room for everyone and everything on the green earth, Vollmann tops himself not just in length but also in vision and depth.
Movie Star by Lizzie Pepper, by Hilary Liftin (Viking, July 21)
When the celebrity heroine of this pretend tell-all confesses, "I had a morbid interest in survival stories," she speaks for America. Liftin draws on her day job as a ghostwriter-collaborator (Tori Spelling, Tatum O'Neal) to fictionalize — with magnetic clarity — the train wreck of Tom Cruise and Katie Holmes. From Pepper's first date with Rob Mars to her final escape from his cult, Liftin's sly novel wears its lurid shallowness on its jacket sleeve, and yet her details are careful, funny, and right (except where physical traits were likely switched for legal reasons).
Pretty Baby, by Mary Kubica (Mira/Harlequin, July 28)
The author of intricately wrought suspense had the misfortune of publishing her first novel, The Good Girl, just as a similarly named best-selling mystery was seeing second life as a movie. It's just as well, because Pretty Baby has even better stuff. Do-gooder Heidi and her mismatched husband Chris take in a homeless boarder and her newborn daughter. As disaster ensues, the narration alternates among them and their new charge, Willow. But this is no familiar game of psychopaths; everyone is deeply flawed but deeply human.