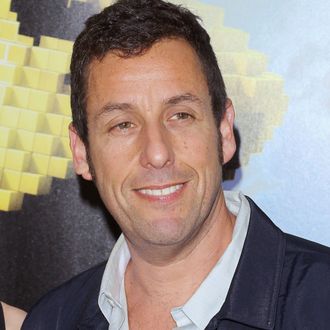 Adam Sandler attends Pixels premiere.
Photo: Jim Spellman/Getty Images
Adam Sandler finally addressed the controversy that arose on the set of his Netflix movie The Ridiculous Six back in April, when a number of Native American actors walked off in protest of culturally offensive material that "grossly misrepresented" Apache culture. "It was just a misunderstanding and once the movie is out will be cleared up," he told the AP while doing press for his movie Pixels. Sandler went into greater detail with Screen Crush, even saying that the film is "pro-Indian."
I talked to some of the actors on the set who were there and let them know that the intention of the movie is 100% to just make a funny movie. It's really about American Indians being good to my character and about their family and just being good people. There's no mocking of American Indians at all in the movie. It's a pro-Indian movie. So hopefully when people see it — whoever was offended on set and walked out, I hope they realize that, and that's it. It was kinda taken out of context.
The controversy doesn't seem to have affected his relationship with Netflix. Sandler is already beginning production on his next comedy for them starring himself and David Spade. As for The Ridiculous Six, viewers can judge for themselves on December 11.