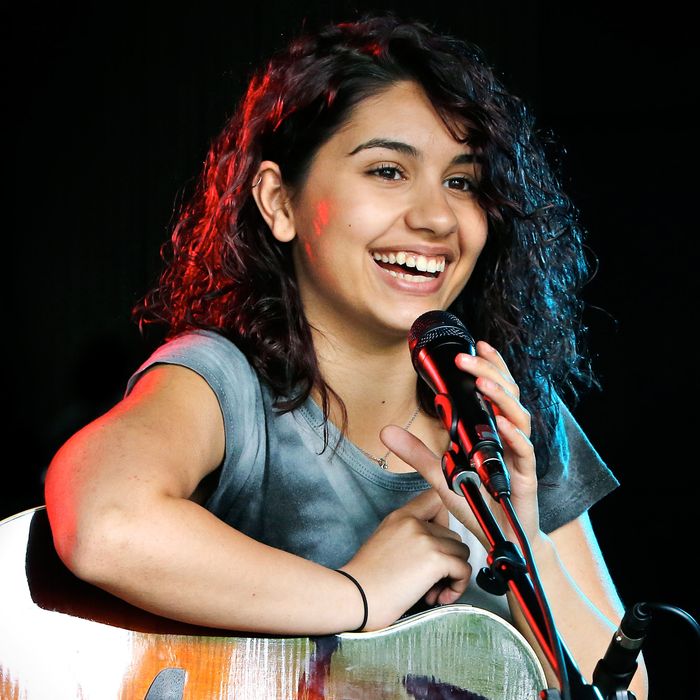 Alessia Cara.
Photo: S Fernandez/Corbis
We are all falling in love with Alessia Cara, the 19-year-old singer from Ontario whose introspective koan about going to a party and feeling alone has become this year's calling card for antisocial weirdos.
Cara is super-chill. When she arrived at the Vulture studio to perform an acoustic version of "Here" recently, her nerves were tucked away neatly somewhere else. The only thing on display was her cool and abundant confidence, bordering on swagger.
"Here" takes a few cues from Lorde. "I'm a huge fan of hers," says Cara. "With 'Royals,' she was basically saying the same thing: Other pop artists or hip-hop artists want these things, but that's just not my lifestyle. 'Here' is the same thing. I'm saying this is just not me." No drugs, no drinking, and no confusion mean Cara is free to exude as much confidence and security as she wants. Like a boss.
But that life isn't easy. It can even be a little bit isolating. All introverts, Cara says, share a few common characteristics — not being able to talk to people, being uncomfortable sharing their feelings to the public, thinking a lot but not saying a lot. "There are different kinds of introverts, but I'm definitely the kind of person where I think a lot and I don't really say a lot about what I'm thinking. I'm really observant."
Right now Cara has a lot to take in. Just five years ago, she was posting private music videos on Facebook for friends and family only. Four years ago, she posted a few on YouTube. No one was watching; she was lumped in with thousands of random aspiring YouTube artists. ("YouTubers," she calls them, somewhat sardonically.) After signing to Def Jam, Cara kissed those days of being lumped in and brushed aside good-bye. The latest fan to fall in love with her is Taylor Swift, who just last week tweeted an effusive approval of Cara's raspy cover of "Bad Blood" for BBC 1.
For the acoustic version of "Here" for Vulture, Cara changed up the chords a bit to give the track a bluesy mojo. Watch the exclusive performance below. Cara's debut album is expected to drop sometime this fall.