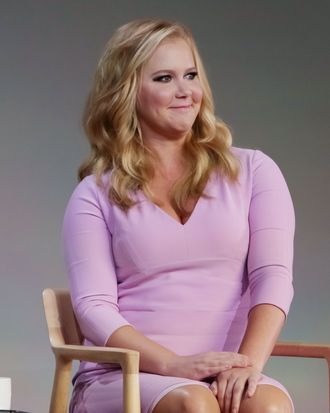 The first time is always rough.
Photo: Brent N. Clarke/Getty Images
Amy Schumer makes the many trysts in her new comedy Trainwreck look easy and breezy, but her first time, like all first times, was anything but. "My first sex scene was with [Eugene Mirman]. He was supposed to be losing his virginity to me, and we were supposed to be wasted," Schumer explained to the overflowing crowd at the Apple Soho store on Monday evening. Schumer had a recurring role as Trish, the girlfriend of Yvgeny (played by Eugene Mirman), an inept Russian hit man with a penchant for vodka-centric stand-up, on Adult Swim's mockumentary-style TV series Delocated. Schumer continued:
At the same time he's having his first orgasm, he finds out that his dad dies. So he was scream-crying and drooling and coming, and I'm under him. It was the kind of thing where at first I was trying to make him comfortable because he was shy, so I was like, Oh my God, don't worry. And then I was like, Oh, he's comfortable. I was walking down the stairs at the end of a shoot day and I was like, Oh, my acting teacher told us that some days you'll just be playing the girl who gets fucked.
However, while attending the premiere party for the episode a few weeks later, Schumer found out that her role had been completely cut. Mirman's sweaty body, though, was still on full display. "You could tell that somebody was getting rammed, but you couldn't tell that it was me," she said with a laugh. "They were like, Oh, yeah, Adult Swim. We weren't allowed to show that. And I'm like, Did you maybe think about not shooting that? A body pillow would've been cool. But the sex scenes in the movie were easier than that — most of them." We're sure Bill Hader will be thrilled to hear that.