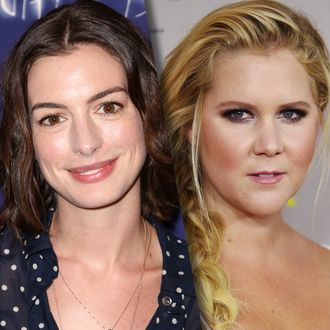 Basically BFFs.
Photo: Walter McBride/Getty Images and Don Arnold/Getty Images
Have you heard of Amy Schumer? She's blonde and pretty funny and we write about her from time to time. Trainwreck, the movie she wrote and stars in, opened to the tune of $30 million this weekend, and she also scored her first best actress Emmy nomination for Inside Amy Schumer. Now that she has her bona fides, her jokes get appraisals from people like Oscar winner Anne Hathaway. For some context, there's a scene in Trainwreck where Schumer's love interest, Bill Hader, wins an award. When he comes out to talk to Amy, he totes the trophy along with him, she jokes, like Anne Hathaway at an Oscars party. Zing!
Hathaway loved the joke. To prove it, she put a ticket stub on both Instagram and Facebook with a note telling Amy, "way to slay":
Schumer, meanwhile, also loves Anne Hathaway and said that Judd Apatow made her say the joke, thus clearing the path for white wine slumber parties:
Judd doesn't appreciate being thrown under the bus, or, well, the train.