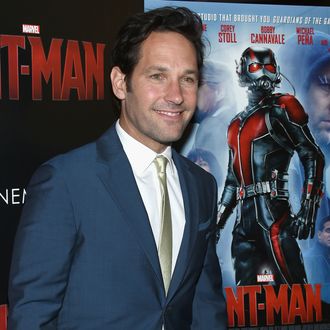 Paul Rudd's desired superpower is not to shrink.
Photo: Dimitrios Kambouris/Getty Images
The stars of Marvel's latest super-movie came out for the Cinema Society and Audi's screening of Ant-Man at the SVA theater in New York Monday night. From the suddenly ripped yet still adorable Paul Rudd to elder statesman Michael Douglas, we asked what superhuman abilities they'd all want. Turns out everyone just wants to fly or be invisible.
Paul Rudd
"It's a tie between create world peace, fly, and get the Kansas City Chiefs to win the Super Bowl someday. But not in that order."
Michael Peña 
"Everyone kind of fantasizes about it, but it would be cool to be invisible. Like, you can go anywhere. I don't know if I'd want to be immortal, because imagine living forever. You could do anything and everything and never die; there would be no consequence. I'd have to go with invisible."
Corey Stoll
"Flight. Whenever I have a flying dream, I feel like I've hit the lottery."
Michael Douglas
"Getting small like Ant-Man. It's pretty fascinating. We know enough about getting big with steroids and all that. But getting small offers an unlimited amount of opportunities."