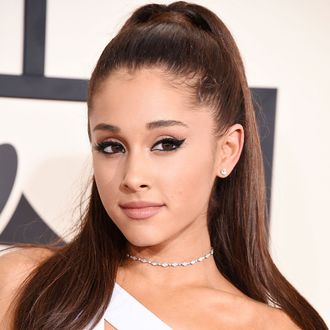 Ariana Grande, the target of #Donutgate.
Photo: Steve Granitz/Getty Images
If you stay on top of your kid's social-media behavior, you may have noticed a confusing hashtag making the rounds this week. It's called #Donutgate (or #Doughnutgate), and it's been "trending" online since Monday. What is #Donutgate?  It's an online movement that, its supporters say, is all about ethics in doughnut-shop etiquette. (New York's style guide prefers the latter spelling.) Specifically, the actions of Ariana Grande, who was captured on video this weekend apparently licking the doughnuts at a California sweets shop while the staff's backs were turned. When workers returned with fresh doughnuts, Grande acted unimpressed with the unlicked pastries, asking, "What the fuck is this?" before concluding, "I hate Americans. I hate America." (Grande, born in Boca Raton, has been an American citizen since birth.)
America's teens — many of whom work low-wage service-industry jobs, and many more of whom enjoy eating doughnuts — were immediately outraged. They took to Twitter to speak out about #Donutgate in the hopes of mounting enough public pressure to force Grande to apologize:
But have the #Donutgaters gone too far? After only a day, the campaign celebrated a major victory against its target Wednesday, as Grande dropped out of her upcoming performance at baseball's All-Star Game — ostensibly because of her wisdom teeth. (She's since been replaced by Demi Lovato.) But for #Donutgate supporters, that's still not enough. They want answers, and it's clear they won't stop until they get some
Update: Grande has issued a statement on #Donutgate, explaining that the whole thing was a protest against childhood obesity.