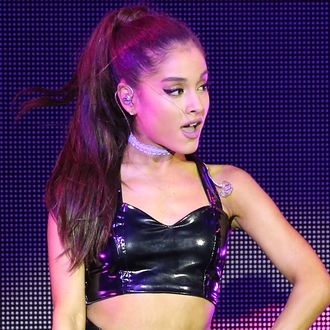 Ariana Grande.
Photo: Neilson Barnard/Getty Images
Authorities are now investigating the video that appears to show noted confection terrorist Ariana Grande licking a California doughnut shop's wares, according to reports. But Lake Elsinore police and Riverside County public health officials are looking into the shop, the L.A. Times reports, not Grande and the man who they say "maliciously lick[ed]" stuff. A Riverside County sheriff's deputy told the Times they don't believe a food-tampering crime was committed. A spokeswoman for Riverside County's Department of Environmental Health added that inspectors are digging into the doughnut shop's history to see if it has a record of leaving its products out, without covering or protection, because California health laws require eateries to shield food from public contact.
Grande, 22, reportedly licked the doughnuts during a game of Truth or Dare. (Ariana: 1, Dare: 0.) A cashier on duty at the time of the attack said the singer didn't purchase any of the food she licked. "She was really rude," the cashier told the AP. The doughnuts from the night of the incident reportedly sold out, so if Grande did in fact lick them, a slew of customers consumed famous spittle. Fortunately, the Health Department hasn't received any complaints about possibly contaminated doughnuts, according to the Times. Grande has since kind of apologized — not for licking any doughnuts, but for going off on America on its birthday weekend. Morals of the story: Always cover food. Always pay for the food you lick. Always, if you see Ariana Grande coming to your establishment, dare her not to lick the doughnuts.