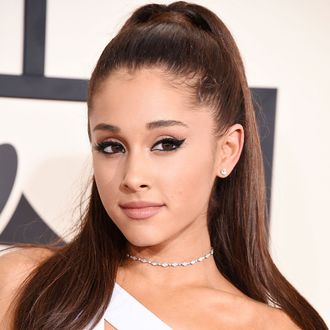 America's most hardened criminal is back on the streets.
Photo: Steve Granitz/Getty Images
Ariana "Tricky Dick" Grande has escaped again: TMZ reports that the singer will not be charged in the doughnut-licking case that caught the internet abuzz last week. Though Grande had the means (a tongue), the motive (a desire to lick doughnuts), and the opportunity (the staff of the doughnut shop had apparently turned their backs) in the crime, Riverside County's Wolfee Donuts declined to press food-tampering charges against the star. Grande has already apologized for the incident, explaining that the whole thing was a political protest against childhood obesity. The singer will also not be charged for announcing that she "hate[s] America," thanks to the repeal of the Sedition Act of 1918.