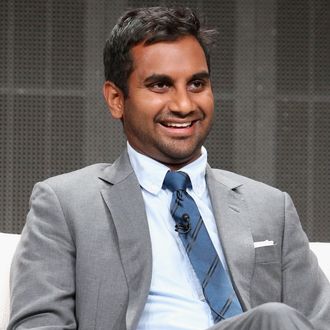 The star of Master of None.
Photo: Frederick M. Brown/Getty Images
Netflix revealed a few details about Aziz Ansari's new show on Tuesday, including its title — Master of None — and premise: Ansari will play Dev, a 30-year-old actor in New York who "has trouble deciding what he wants to eat, much less the pathway for the rest of life … Dev's story takes him through subjects as diverse as the plight of the elderly, the immigrant experience, and how to find the most delicious pasta for dinner." Ansari stopped by the Summer TV Critics Press Association Tour Tuesday to discuss the show alongside fellow co-creator Alan Yang and Parks and Recreation creator Michael Schur, who serves as executive producer alongside Ansari and Yang.
So what should we expect when "Master of None" premieres November 6?
Ansari's character will be loosely based on himself.
Don't expect Ansari's character Dev to be a Tom Haverford redux. "He's in his early 30s, he has good friends, and realizes, 'Oh shit, I'm an adult now,'" Ansari says. "He has to figure out if he wants to get married, have kids." There are elements of himself in Dev, but "he's not exactly me," Ansari adds, likening him to the lead characters in Woody Allen films who are Woody Allen proxies. "This show is like dumping my head and heart out," Ansari continued. "We took care to slow it down a little, and make it a conversation. It's not too jokey."
Yang, who was a writer on Parks and Rec, says fans of that show will like Master of None even though "it's different in tone and feel. It's not as fast-paced. And it's not a mockumentary."
The show is inspired in part by '70s comedies.
Inspirations include: The Graduate, Shampoo,and Heartbreak Kid (the Elaine May version). It takes its cue particularly from "the final moments of a lot of '70s comedies," Ansari said. "Where the characters get to where they're going and say, 'What do I do now?'"
Each episode is a rumination on a "big idea."
One episode, for example, will focus on immigration. Ansari and Yang both appreciate that on a TV show there can be a conversation about topics, unlike Ansari's stand-up act, which is less interactive. Travel will also play a role throughout Master of None. "Aziz and I have traveled together way too much and, yes, it is part of the show," Yang teased. "To reveal more would be a spoiler."
Noel Wells will play Ansari's love interest.
The former SNLer landed the role after a chemistry read with Ansari.
Claire Danes will make an appearance.
Ansari and Yang teased a bunch of guest stars who will turn up in the first ten episodes: Claire Danes, whom Ansari knows from friends of friends and whom he wanted to have on the show because he's never seen her in anything comedic. The Americans' Noah Emmerich, whom Ansari described as "hilarious," will also turn up. Two additional guest actors are near and dear to Ansari — his mom and dad, who evidently nailed their auditions.