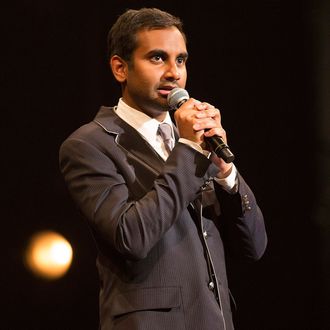 Master of Netflix.
Photo: Andrew Baasch/Netflix
Aziz Ansari's new Netflix show has a premiere date and a title: Master of None debuts on Netflix November 6. Ansari will play Dev, a 30-year-old actor in New York who "has trouble deciding what he wants to eat, much less the pathway for the rest of life." Ah, millennial woes! The show comes to you from Ansari and Parks and Recreation writer Alan Yang and will also star H. Jon Benjamin, Tim and Eric's Eric Wareheim, The Comeback's Lena Waithe, and Popular's Kelvin Yu. Including Ansari and Yang, Parks and Recreation's Mike Schur will also be an executive producer, alongside Louie's Dave Becky and Unbreakable Kimmy Schmidt's David Miner.
According to Netflix, the show will touch on "subjects as diverse as the plight of the elderly, the immigrant experience, and how to find the most delicious pasta for dinner." The logline makes Master of None sound a lot like a male comic making a show about being a lesser, slightly putzier version of himself. He's in good company: Louis C.K. and Marc Maron, please welcome Aziz to the club.