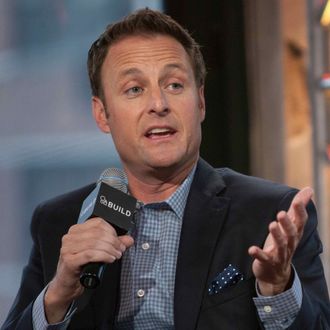 Shade thrower, Chris Harrison.
Photo: Santiago Felipe/Getty Images
Kaitlyn Bristowe, the Katniss Everdeen of televised real-life single ladies, gave away her final rose on The Bachelorette last night, and next week, Lifetime will air the season finale of UnREAL, a satire of The Bachelor franchise. And you know who hates UnREAL with the intensity of a thousand broken Bachelor hearts? The Bachelor host Chris Harrison, that's who. "Really, the main difference that I've seen is that people watch The Bachelor," Harrison told Variety. "It's complete fiction. As much as they would love to jump on our coattails — they were begging for us to talk about it and for people to write about it — at the end of the day, no one is watching. I mean, absolutely nobody is watching that show. Why? It is terrible. It is really terrible." The shade!
Harrison went on: "You only do that when you are part of the vernacular. Because if not, you can't make a joke. It's a sign of respect. The way that UnREAL took it, it wasn't a sign of respect. They were trying to take it another direction, but it doesn't work that way." You've hit it on the nose, guy. As avid viewers of UnREAL, we can heartily agree that the show is not about upholding the mythology of The Bachelor, but rather, breaking it down. It's brutal, gimlet-eyed, and damn good television. But we're also starting to realize that Harrison is not a man who responds well to criticism of The Bachelor franchise, which he's hosted since the first season in 2002.
This was on display during last night's The Bachelorette: After the Final Rose, when Nick Viall sits down for a postmortem with Harrison. When Harrison asks him about his rivalry with Shawn Booth, he starts a sentence that sounds like he might have some — ahem — criticism of the show, but Harrison cuts him off before he can finish his thought. Nick tries to start again, before Harrison deflects with some primo hosting skills. You better watch out, Nick. One more strike and you'll disappear forever.