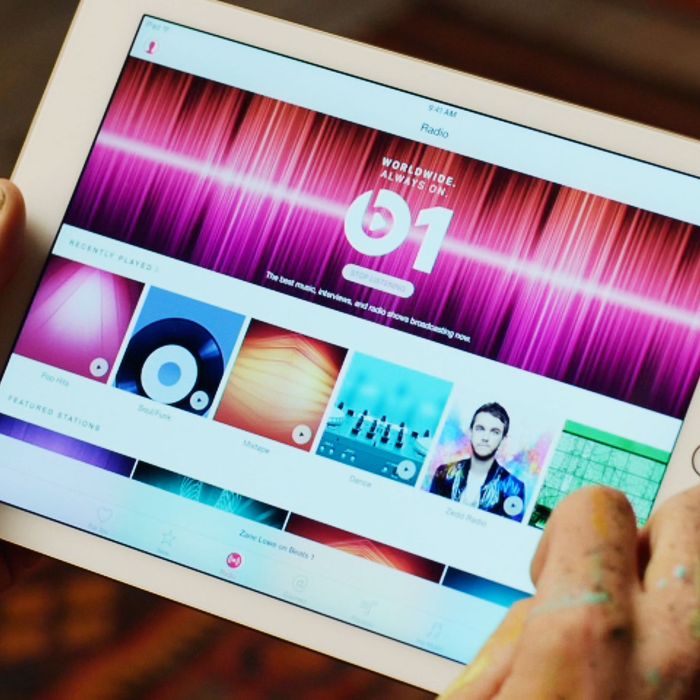 Apple Music is barely two weeks old, but the amount of exclusive content it has already offered is staggering — and Beats 1, the streaming service's free 24-hour global internet radio station, is proving to be the platform's, er, beating heart. Zane Lowe, one of its three principal DJs, premiered new music from Eminem and Pharrell. Drake's first installment of OVO Sound this weekend included fresh remixes and song premieres. Jaden Smith, St. Vincent, Ezra Koenig, Elton John, and Dr. Dre are just a few names on its ever-expanding list of high-profile DJs. You can tune in to find out who Elton John thinks is this generation's most important R&B singer (Miguel), what Jaden Smith's favorite TV show is (Buffy the Vampire Slayer), or to hear the latest from M.I.A., whose "Matahdatah Scroll 01 'Broader Than a Border'" premiered on Beats 1 this week, along with a new video on Apple Music Connect. 
There is an endless amount of material being churned out at a remarkable pace on Beats 1, but that's not why I called it Apple Music's most exciting feature. (After all, there were plenty of rumors to suggest that Jimmy Iovine had used his extensive rolodex to secure exactly these types of deals.) What's most compelling is Beats 1's utility for people who feel out of touch with new music. A common complaint among the 30-something-and-older set is that they don't know where to find new music (and not that they're too old to like it, as a recent study suggests). Beats 1, with its heavy mix of global pop stars and up-and-comers, appears to be luring those aimless listeners out of their college-radio rut. At various points in the past two weeks, I've opened Beats 1 to hear a live version of a favorite (Radiohead's "Everything in Its Right Place"), a future chart-topper (Demi Lovato's grown-women-only anthem "Cool for the Summer"), a great new act (Jacob Banks's "Monster"), and a somewhat familiar song I wanted to hear again (Jack Ü and Justin Bieber's "Where Are Ü Now").
Since Beats 1 is mostly live, it can also build hype in real time. On Saturday afternoon, for example, a friend who lives in Baltimore sent a text: "Ready to listen to some Jaden Smith radio." I was not, I was at lunch, but that didn't stop this friend from sending me rapid-fire live updates about Jaden's debut show. "'Chemistry and squares are cool,'" was the first dispatch. (Anyone familiar with Jaden's eccentric Twitter feed will find this quote to be very on-brand.) Each passing text made me feel more and more like I was missing out on something important and exciting — not unlike the social chatter that accompanies an appointment-viewing show like Game of Thrones. When I tuned in to Drake's show the following day, my Twitter feed lit up with fans gleefully exchanging notes about OVO godfather Oliver El Khatib dropping new Drake remixes. The show ended with Drake himself introducing a guest set by little-known 20-year-old Austin producer Eric Dingus. The show reaired 12 hours later, but the real allure was hearing it first in real time and sharing that experience with other listeners.
Beats 1 has its drawbacks, because of course it does: It's just a half-month old. The DJs that aren't a part of Iovine's celebrity-worship program or one of its three principals — Lowe in Los Angeles, Ebro in New York, and Julie Adenuga in London — talk a lot without adding much value. (One I heard sounded like he learned everything he knew about music commentary from TRL.) This is less a service to the listener than a way to keep building the "we are not the machines" brand. Also, Beats 1, which broadcasts in over 100 countries, seems intent on creating a monoculture where everyone feels cool for the exact same reason: listening to Beats 1. That's straight out of the Steve Jobs playbook, where ownership of an Apple product is supposed to provide entrée and status, but that approach runs contrary to the reason many of us love music, which is because our relationship to it feels personal and unique to our own experiences. It's also free, which allows it to function as a sort of glorified ad for Apple Music, which costs $10 after a three-month trial period.
Nevertheless, Beats 1 Radio is doing something right. To say I've been pleasantly surprised with the programming is to undersell it. This probably does not bode well for Sirius XM or Pandora — or Spotify, for that matter — but for fans still looking for a place to discover new music, Beats 1 is a good place to start.