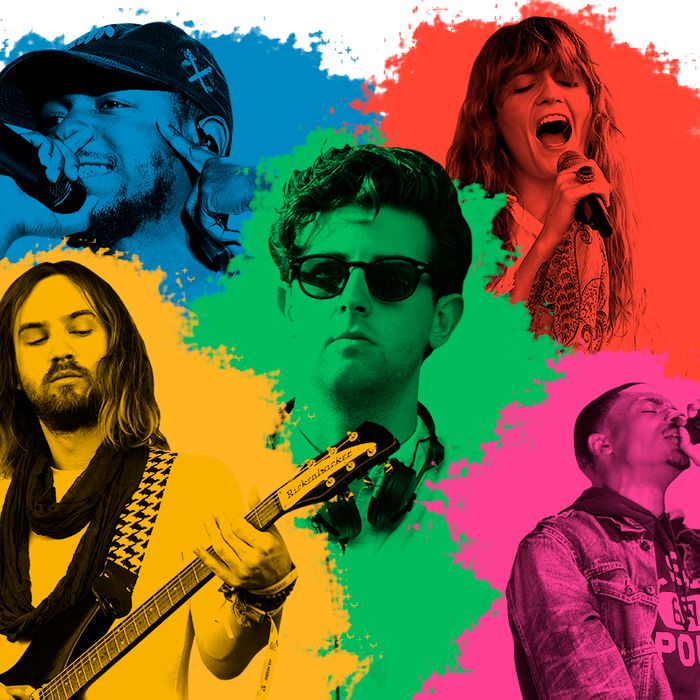 Left to right: Kevin Parker (Tame Impala), Kendrick Lamar, Jamie XX (center), Florence Welch, and Vince Staples
Photo: Maya Robinson and Photos by C Flanigan/WireImage, Andrew Chin/Getty Images, Daniel Boczarski/Redferns via Getty Images, C Flanigan/WireImage and Roger Kisby/Getty Images
This week, Vulture is looking back on the best entertainment from 2015. In today's edition of (So Far), music critic Lindsay Zoladz reflects on ten albums she's kept in heavy rotation. Also see our TV, books, and movies lists, then clear your weekend to catch up on whatever you missed.
It's been a good half-year for moving forward; it's been a good half-year for looking back. New records from Kendrick Lamar, Vince Staples, and Chance the Rapper, all of them unrelenting in their innovation and intimacy, serve as reminders that the next generation of rap is in capable hands. The throwback efforts of fast-rising rock acts, which evidence '90s grunge and post-grunge influences such as Nirvana and Pavement without being defined by them, help listeners to discover something new and exciting in the seemingly familiar. And then there's a Skrillex and Diplo side project that shouldn't exist but does — and how. It's hard not to feel good about the past six months in music, and these ten albums are a big reason why.

Jamie xx, In Colour
The xx's resident producer Jamie steps out of the shadows on his haunting, atmospheric debut, In Colour. Featuring cameos from his bandmate Romy, Jamaican dancehall artist Popcaan, and yelpy rapper Young Thug, In Colour is a club record undercut with a surprising sense of melancholy. Sounds like raving with ghosts.
Kendrick Lamar, To Pimp a Butterfly
Dense, ambitious, and deeply personal, Kendrick Lamar's second album To Pimp a Butterfly is a record to get lost in — months after its release, I'm still finding little sonic details that surprise me. From the incisive provocation of "The Blacker the Berry" to the irresistibly catchy single "Alright," it's a record that balances skepticism and uplift in a cultural moment when we desperately need both of these things.
Tenement, Predatory Headlights
Wisconsin's Tenement sometimes get called a pop-punk band, but that's a misnomer — if only because that descriptor usually conjures visions of three-chord songs that clock in under three minutes. On their brilliant double-album Predatory Headlights, Tenement are after something more ambitious: Tuneful, jangly power-pop gems ("Dull Joy", "Whispering Kids") sit alongside jazzy experimentation and evocative sonic collages. Their range is impressive, but Tenement's best songs keep it relatively straightforward; nodding to the likes of T. Rex and Big Star, albeit with a punk sneer, this is some of the most satisfying guitar-rock I've heard in years.
Florence and the Machine, How Big, How Blue, How Beautiful
You can put Florence Welch in a boot-cast, you can confine her to a stool on SNL, but you can't hold back that voice. The pre-Raphaelite pop star's third album is her most minimalist, but even a dialed-back Florence and the Machine song contains more fury and verve (see: the nervy rocker "What Kind of Man," the whirling dervish "Queen of Peace") than another band's most rafter-shattering single.
Donnie Trumpet & the Social Experiment feat. Chance the Rapper, Surf
Chance the Rapper is audaciously uncool. So much so that he once covered the Arthur theme song. So much so that there is a song on his album Surf on which he squawks, "I don't wanna be cool, I just wanna be me!" So much so that he ceded top billing on Surf to his trumpet player, who is literally named Donnie Trumpet. But listening to Chance is nothing short of liberating because every off-kilter line and proudly earnest delivery just hammers home how little interest he has in sounding like anybody else out there. Surf is a powerful statement, finding one of the most promising young rappers in the game shrugging off everyone else's definition of success, sharing the spotlight with his friends, and promoting a message of proudly uncool — but desperately needed — joy.
Bully, Feels Like
On the searing breakup song "I Remember," which opens this Nashville four-piece's debut Feels Like, Bully front woman Alicia Bognanno has unleashed her signature primal scream, a delivery that sharpens banal memories into pointed accusations: "I remember when I met your dad / I remember how I met your mom, I remember what you do on Christmas!" Bully are something of a grunge throwback, sounding like a band that could have opened for Nirvana circa Bleach, but Bognanno's trenchant and delightfully surreal lyrics keep them feeling fresh (in both senses of the word).
Courtney Barnett, Sometimes I Sit and Think, Sometimes I Just Sit
"I love you, I hate you, I'm on the fence, it all depends," wordy, whip-smart Aussie Courtney Barnett declares on her debut album — an oddly articulate ode to indecision and 20-something in-betweenness. Barnett writes lyrics like nobody else out there right now; her songs are full of short-story-like description, droll humor, and flashes of genuine insight.
Tame Impala, Currents
On which Aussie psych-rock mastermind Kevin Parker cleans up and streamlines his band's sound until it sounds as sleek as a showroom spaceship. Like a succinct argument for the death of the genre descriptor, this record's got it all: Daft Punk–esque sheen ("Let It Happen"), soft-rock reveries ("'Cause I'm a Man"), and, as a nod to Tame Impala's earlier days, even the occasional crunching psych-metal riff ("Eventually"). Press play, blast off.
Vince Staples, Summertime '06
Post–gangsta rap for the post-Yeezus era. Rising Bay Area rapper Vince Staples is thoughtful, nimble, and incisive on the mic, and his great debut album has some of the most broodingly dark and inventive production I've heard on a rap record since you know who. Why do I get the feeling Kanye heard this and pushed his "forthcoming" album back another six months?
Jack Ü, Jack Ü
This shouldn't work: A Skrillex-and-Diplo collabo that, we learn on the opening track, began life as a masturbation joke they thought was funny when they were high — and given famous friends and unchecked creative power, quickly morphed into a full-length album that features 2 Chainz, Justin Bieber, and remixes from P. Diddy. But you know what? Jack Ü rules. The energy is frantic, the production is fun as hell, and all the guests bring their most bonkers game (quoth 2 Chainz: "Yeah, I'm the shit / I should have Febreze on me"). As sugary as it is warped, this is EDM Willy Wonka. And you know what else? That Bieber song is fire.