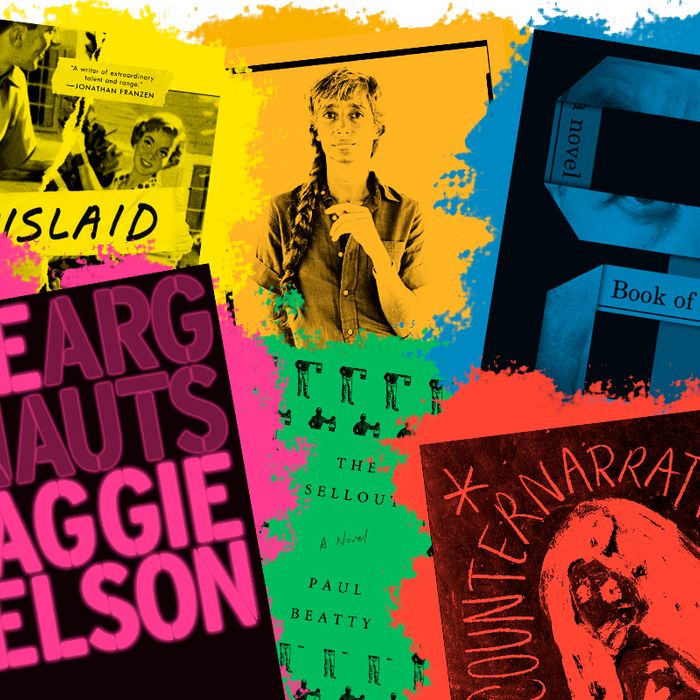 Good reads
Photo: Maya Robinson and Photos by Harper Collins, Graywolf Press, New York Review Books, Macmillan, Penguin Press and New Direction Publishing
What does it mean, as an American, to believe in progress? Harper Lee's Go Set a Watchman, the fastest-selling book of the year so far, shows one literary great attempting to answer this question in the 1950s; over the past six months, the authors of our favorite novels, stories, and memoirs have attempted to do the same for 2015. These ten stand out as having made an especially remarkable impression on the past half-year.
After the Tall Timber: Collected Nonfiction, Renata Adler
Two years after the reappearance in print of her novels Speedboat and Pitch Dark, Adler has returned again as a reporter, essayist, and critic — one of the best we've had on all three fronts. The new collection charts her progression from reporter to Yale Law–trained parser of constitutional betrayals and journalistic malpractice, and the truth is, though she's been near-silent for some time, she only ever got better.
The Sellout, Paul Beatty
Slavery and segregation return to modern California in Beatty's profane satirical novel. For a taste of Beatty's less profane comic genius for language, take one character's retitling of a politically corrected edition of The Adventures of Huckleberry Finn: "The ­Pejorative-Free Adventures and Intellectual and Spiritual Journeys of African-­American Jim and His Young Protégé, White Brother Huckleberry Finn, as They Go in Search of the Lost Black Family Unit."
Between the World and Me, Ta-Nehisi Coates
It doesn't matter whether Coates deserves comparisons to James Baldwin or Richard Wright, or whether his incantatory style sometimes grates the ear (as it does mine); Coates's argument — that present racial injustice is a structural phenomenon and the manifestation of a brutal history we're still living through — is utterly convincing and vital.
Book of Numbers, Joshua Cohen
A hyper text without any links, an obscene book about internet obscenity, a giant fuck-you sent from the culture of the page to the cult of the screen: Book of Numbers is a thorny masterpiece. It brings the systems novel into the era that's learned (from Edward Snowden and Julian Assange) that the paranoid style of Pynchon and DeLillo was simply realism.
Outline, Rachel Cusk
A seeming autofiction that spills out into many more various fictions as the narrator goes from London to Athens, has various encounters, and listens to many stories, Outline is written in a prose that acts as a sharpening lens, and it converts an often narcissistic genre into something anti-narcissistic.
Counternarratives, John Keene
Keene's collection of short and longer historical fictions are formally varied, mold-breaking, and deeply political. He's a radical artist working in the most conservative genres, and any search for innovation in this year's U.S. fiction should start here.
Against the Country, Ben Metcalf
There's no other American novelist, or novelist anywhere, who combines Tolstoyan cadences, Bernhardian outrage, a Faulknerian sense of destiny and place, and Twainian wit. Metcalf's absolute tour de force was met in January with scorn in some quarters by critics who would have spat on Laurence Sterne if the author of Tristram Shandy walked among them.
The Argonauts, Maggie Nelson
Part portrait of a happy family, part critical meditation on queerness, Nelson's hybrid book suggests a new path for the memoir. There's no need for falls from grace or stirring redemptions when you can look at life and death, as Nelson does, with a refined critical eye. It doesn't hurt that she speaks with the voice of a poet either.
The Nearest Thing to Life, James Wood
The four lectures collected here meld autobiography and criticism and make for Wood's most personal and pleasure-giving book so far. We see him asking his parents where God came from, being punished with 106 whacks of a hairbrush as a schoolboy, picking up a handbook guide called Novels and Novelists and becoming enthralled by its concept of greatness. The sense we get of the critic's life makes sense of why he's so good at probing for signs of life in fiction.
Mislaid, Nell Zink
Zink's comedy of race and sexuality in Virginia has an antic pulse, a Shakespearean finale, and a hard-core disdain for American niceties. She claims to draft her books in three weeks' time, and rumor has it more are soon on the way, deadpan bombs tossed on the homeland from an expatriate in Germany. We have entered the age of Zink.