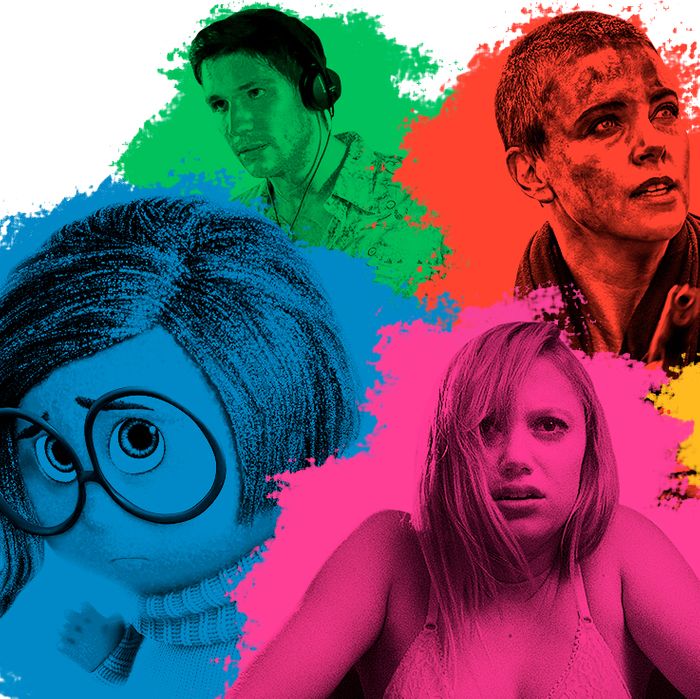 Photo: Maya Robinson and Photos by Disney/Pixar, CG Cinéma, Warner Bros, Sony Pictures Classic and RADiUS/TWC
This week, Vulture is looking back on the best entertainment from the past half-year. In today's edition of (So Far), film critics David Edelstein and Bilge Ebiri reflect on a handful of movies from 2015 that have stayed with them. Also see our TV and books lists; tomorrow we wrap things up with music.
We're just past the halfway point of the calendar, and we can confidently say that we have absolutely no idea if 2015 is shaping up to be a great year for cinema or not. There's always a bit of smoke and mirrors in that kind of blanket assessment, anyway; as usual, many of the best films of 2015 had their festival and/or international premieres in previous years. But we can say that the year thus far has given us a diverse range of high points. A Pixar movie for the ages. A summer action blockbuster that will probably top many end-of-year top-ten lists. One of the greatest African films ever made. An instant horror classic. And, as usual, several epochal documentaries (a couple of which we can't include on this list because they haven't opened yet). Here are the 14 best films of 2015, so far.
About Elly
Just released in the U.S., Asghar Farhadi's 2009 mystery revolves around a kindergarten teacher invited on a beach trip by the mother of one of her students and drifts inexorably towards tragedy. It doesn't have the social panorama of Farhadi's A Separation, but it's more compressed, more visually evocative. Farhadi evokes an Iranian society in which alienation is absolute. —DE
Amy
Part brilliant testament to the artistry of Amy Winehouse (arguably the most soulful vocalist of the last quarter-century), part autopsy, this documentary makes your heart alternately leap and hurt. The dad who told her not to go to rehab (no, no, no) didn't like it. —DE
Blackhat
Michael Mann's latest, a cybercrime thriller starring Chris Hemsworth, tanked so hard that a couple of the director's flops from the 1980s actually beat its box-office take. It came in for some critical drubbing, too; David's mixed review, in which he said it was "good enough to make you wish it were better," was probably one of its nicer notices. To be fair, the film has its issues, not the least of which is a plot that starts off with a nuclear explosion and then steadily de-escalates from there. But Mann, as I discussed in my profile of him at the time, has become an increasingly abstract filmmaker over the years: For him, the dance of images, sounds, and textures is as important, if not more so, than the typical interplay of characters and dialogue. As Blackhat hops across the globe from city to city, Mann creates a world of grids and dense, repeating designs, as if the film's very reality has absorbed the microscopic patterns of the digital world. Meanwhile, the characters go from typically Mann-ly alienation to visceral proximity: There's a reason why this movie about 1s and 0s gradually moves towards a surprising, grotesque bloodbath. It definitely doesn't work for everybody, but for the director's fans, Blackhat is one sustained, mesmerizing reverie. —BE
Eden
Mia Hansen-Løve's surprisingly epic look at the career of a French house garage DJ — modeled after her own brother — is rambling, cool, and thoroughly absorbing. The film has adopted the tonal paradox of the music itself: "Between euphoria and melancholia" is how the protagonist describes one song, and the same could be said for the film itself. But this is far from a glorification of DJ culture. For a film with such great music, most of it played in clubs and parties, there's very little joy here. So, where is the real "Eden" in Eden? It's in the music itself, in the fleeting little moments of transcendence that those hypnotic beats provide — tenuous connections that materialize and are gone forever. In his review, David observed that "the triumph of the film itself is its centrifugal force, its dispersed palette, its constant movement away from a center." —BE
Hard Day
A South Korean thriller with so much narrative and visual wit that you're simultaneously laughing and crying out in fear. Kim Seong-hun's hairpin bloodbath charts approximately 24 hours in the life of a police detective named Choi (Lee Sun-kyun) who attempts to dispose of a body he hit while driving — slightly inebriated — to the funeral home to bury his mother. The first half has an uproarious exponential logic: For every action Choi takes, there's a greater and opposite reaction, meaning every problem solved creates two more. —DE
Inside Out
The best Pixar film? Certainly the most penetrating. Director Pete Docter conceived this rambunctious, surreal animated masterpiece as a way to see the world through the eyes of his sad 11-year-old daughter. The resulting film — set inside its protagonist's mind, where wayward emotions in human form attempt to work together — will help sad girls and boys and the grown-ups who grew up from them for as long as there are movies. As the voice of Joy, Amy Poehler conveys not just supernatural exuberance but quavers of doubt that keep her from being cloying or cartoonish. It's one of the best vocal performances in movies. —DE
It Follows
A tense and incredibly scary horror movie that also works as an exploration of the film image itself. The idea of a demon that finds and walks towards you in a straight line — often, as shot by director David Robert Mitchell, from the very depths of the frame — is unnerving, yes, but it also sets the mind on fire: You start to watch everything and everybody with suspicion. (In his review, David said the film scared him in a "so-upset-I-feel-sick kind of amorphous dread" way.)  In a shocking turn of events, Mitchell also takes the care to give us real characters who seem to come alive onscreen; it's the rare horror movie where we actually worry about people instead of reveling in their destruction. And, and, and … It Follows is also fraught with thematic possibility; don't be surprised if it inspires generations of dissertations. —BE
Jauja
In Lisandro Alonso's captivating and befuddling beauty of a film, the great Viggo Mortensen plays a Danish engineer in late 19th-century Argentina who goes off on a quest to find his daughter, wandering a bizarre lunar landscape on what seems to be an increasingly symbolic journey. The film toys with meanings — Alonso raises questions about violence and civilization, about loyalty and servility — but that it resists analysis is one of its strengths. "The less you understand, the more mesmerized you are," I said in my review, and now that I've seen the film a couple more times, I stand by that statement even more. —BE
Mad Max: Fury Road
George Miller's years-in-the-making masterpiece is more than just a great action film — though it absolutely is also that. It follows the logic of a nightmare: Miller makes sure that we experience the movie as a series of surreal images, even as he delivers the visceral goods. (In his excellent review, David called the film's desert setting "a mythic stage for a punk-rococo circus of freaks.") So we get truck chases and car chases and bikes flying off cliffs and epic, intricate four-way fistfights … but we also get armies of masked demons who pole-vault into moving cars, and ghostlike, fierce terminal warriors who worship V8 engines and chrome paint, and ancient female avengers who seem to rise up out of a desert that changes texture depending on the characters' psychic states. In the midst of it all, Charlize Theron and Tom Hardy use the film's terseness and relentless pace to their advantage — filling small gestures and glances with such emotion that this film's silences say more than most movies can with their entire running times. —BE
 
Saint Laurent
Bertrand Bonello's episodic, dense biopic of Yves Saint Laurent presents the great fashion designer (played by a touching, fragile Gaspard Ulliel) as a prisoner of beauty. Creation is both his savior and his damnation, and the seemingly formless film is actually quite intricately structured. As the years progress, Saint Laurent works out his obsessions, memories, and desires through his designs, but they also deprive him of his essence, too. In the film's climactic setpiece, a delirious re-creation of YSL's 1976 show presenting his fall/winter line, we see the models walking in their own frames, their sweeping moves creating an intoxicating alternate reality while the designer himself looks pathetic, helpless, peering from behind a wall, a mere mortal who can only witness the beauty he himself created. It's a gorgeous film about being lost. —BE
Tangerine
Famously shot on iPhone 5 and named for the orange hue that evokes the low, slanted winter sun, Sean Baker's boisterous but bleak L.A. farce centers on two transgender people on Christmas Eve, one searching for an unfaithful boyfriend/pimp, the other trying to drum up an audience for her cabaret show. They're hilarious, but their universe isn't. This is a farce in which the bottom suddenly drops out and you see the sadness of these peoples' lives. —DE
The Wolfpack
Crystal Moselle's emotional documentary centers on the six Angulo brothers of New York's Lower East Side — virtual prisoners of a grandiose alcoholic dad — who connected to the world largely by watching and acting out movies together. It's a documentary that shows how even pulpy, sadistic art can help you make the kind of imaginative leaps that free your mind — a bridge off the island of terror that is the nuclear family. —DE
Timbuktu
The word is slang in the West for East of Nowhere, but in Abderrahmane Sissako's remarkable film, this Mali city on the edge of the Sahara is an epicenter, a volatile crossroads for several distinct cultures. One of them, alas, belongs to the Islamist jihadists that in 2012 took over and announced the enforcement of sharia, Islamic law. That's the film in a nutshell: sharia meets multiculturalism. It would be hilarious if it weren't so tragic. —DE
White God
In Hungarian director Kornel Mundruczo's thriller, homeless urban dogs are driven to the breaking point and turn on their human abusers. It's a rousing B revenge thriller that is, at the same time, a stunning parable of social injustice. For who better to explore the fetid back alleys, rubbish-strewn lots, and brutal prisons of an august Eastern-European capital than a stray dog? The performance of that dog — actually two dogs, brothers Body and Luke — is more emotionally full than the work of many human actors. —DE