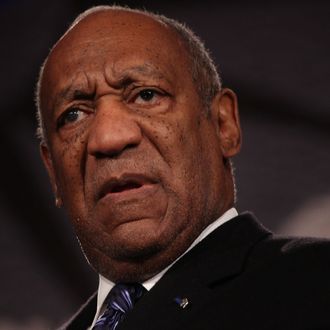 Bill Cosby.
Photo: Spencer Platt/Getty Images
Bill Cosby is definitely no Sherlock Holmes. The attorney for Andrea Constand (the woman whose sexual-assault case against the comedian has produced leaked-but-telling deposition transcripts) said as much in a newly filed motion that denies Cosby's claims that Constand consented to accepting drugs and sex and breached a confidentiality agreement, according to People. Cosby's team had cited Constand's social-media use as an indication that she was pushing to break the agreement. "In his narcissistic view of the world, defendant believes that plaintiff's every Tweet must be about him," Constand's attorney wrote in the motion, which was filed Tuesday in federal court. "He is as perceptive in this belief as he claims to be in his interpretation of non-verbal cues from women he wants to seduce. As defendant admits in his deposition, despite his talent for interpreting female reactions to him, he did not realize plaintiff was gay until the police told him."
Constand's sexual orientation has not been widely reported on until now; the revelation, which includes the fact that Constand was dating a woman at the time of the incident, serves to further discredit his defense. Cosby notoriously said that he was "a pretty decent reader of people and their emotions in these romantic sexual things, whatever you want to call them."
He also claimed that the drugs he gave his accusers (you can read their stories here) were consensual. Constand's lawyer is also denying that: "Plaintiff sits quietly listening to descriptions fed to the media of celebrity parties and 'disco biscuits,' knowing that she never attended a celebrity party or requested to take a disco biscuit (or even heard of that term for that matter)." With regard to Constand, Cosby has asked for sanctions, a.k.a. his hush money, because of a purported breach in confidentiality. Constand's lawyer fought this point, too, saying his very public denial of sex abuse has served as its own slip-up.