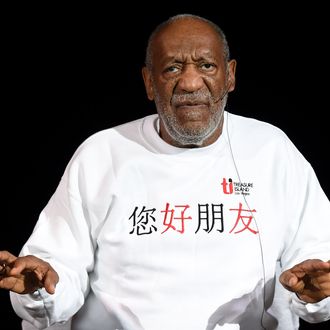 Bill Cosby.
Photo: Ethan Miller/2014 Getty Images
A day after impassioned signees encouraged Disney World to remove its Bill Cosby bust, another petition began calling for more Cosby hardware. Promoting Awareness | Victim Empowerment (a.k.a. PAVE), a sexual-violence awareness nonprofit, is pressuring the Obama administration to revoke Cosby's Presidential Medal of Freedom. "The Presidential Medal of Freedom is the highest honor to any American civilian, and Bill Cosby's name does not belong on it," PAVE founder Angela Rose told Time.
The medal is "presented to individuals who have made especially meritorious contributions to the security or national interests of the United States, to world peace, or to cultural or other significant public or private endeavors," according to the White House. Then-president George W. Bush gave the embattled comedian the honor in 2002. The petition comes on the heels of Cosby's recent unsealed admission to having sex with drugged women. "We cannot yet give his accusers their day in court, but we can fight back in the court of public opinion," the petition writers urge. Although the revocation would be unprecedented (and potentially impossible, according to White House spokesperson Josh Earnest), PAVE is seeking to gather at least 100,000 signatures by August 7. At time of publication, the petition had racked up a little more than 1.3 percent of its goal.
Whether the petition yields any fruit, Cosby's fall from grace has steadily continued since Monday's unsettling courtroom revelation. In other Cosby news, for instance, Deadline pointed out Wednesday that CAA quietly cut ties with the comedian. The agency had repped him since 2012, when he left the William Morris Agency. Cosby was reportedly dumped by CAA late last year, though, according to Deadline's sources, effectively meaning he has no talent representation in Hollywood anymore.