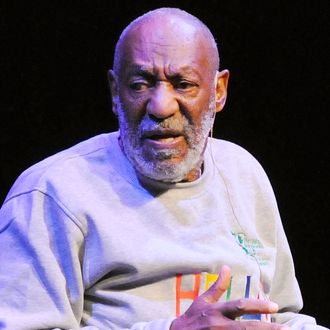 Cosby.
Photo: Gerardo Mora/Getty Images
Bill Cosby is now asking a court for "sanctions" against Andrea Constand because she and her lawyers "are intent on reneging on what they promised — confidentiality and finality," reports the New York Daily News. Constand originally filed a civil suit against Cosby in 2005 after the Pennsylvania D.A. declined to pursue criminal charges. While they eventually settled in an undisclosed agreement, court documents obtained by the AP earlier this July contain an admission from Cosby that he had sex with women after giving them quaaludes. Cosby accuses Constand and her lawyers of helping the New York Times obtain the full deposition, thus resulting in a "colossal breach" of their confidentiality agreement. As a result, Constand may have to "disgorge some or all of the money paid to her by defendant as part of the settlement."
In the filing, Cosby also refers to quaaludes as "disco biscuits" and argues that the extramarital affairs and drugs were just a part of the times. "There are countless tales of celebrities, music stars and wealthy socialites in the 1970s willingly using Quaaludes for recreational purposes and during consensual sex," the filing states. The lawyer for Therese Serignese, who was a Jane Doe in Constand's original suit, said, "It's laughable that the Cosby team is going to rely on the 'sex, drugs and rock and roll' defense as a response to the abuse allegations of the women."
In other news, the California Supreme Court ruled that Judy Huth and Gloria Allred's civil suit alleging Cosby sexually assaulted Huth when she was a 15-year-old girl at the Playboy Mansion in 1974 can move ahead.