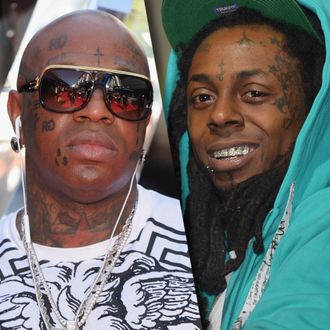 This story just keeps getting sadder.
Photo: Getty Images
The feud between Lil Wayne and his former mentor/father figure Birdman has reached a dangerous new low: According to an indictment filed in June, both Birdman and his newest mentee, rapper Young Thug, allegedly conspired to have Lil Wayne murdered. Their involvement comes as a footnote to a case involving Young Thug's former road manager, Jimmy "PeeWee Roscoe" Winfrey, which stems from an April drive-by shooting of Wayne's tour bus in Georgia, (no one was injured). Winfrey was arrested and charged for the shooting in June, but the indictment suggests that Birdman and Young Thug may have ordered him to fatally injure Wayne. "The indictment alleges that Young Thug made a threat against Lil Wayne, and tour bus shooting suspect Jimmy Winfrey carried out that threat," reports Atlanta's WSB-TV. The murder plot reportedly stems from an ongoing record-label dispute between Lil Wayne and Birdman that resulted in Wayne filing a $51 million lawsuit against Birdman and Cash Money Records over the delay of his album, Tha Carter V.
Birdman and Young Thug have not been charged with any involvement in the April shooting. And WSB-TV reporter Mike Petchenik notes that prosecutors have based the two rappers' involvement in the shooting on evidence that allegedly includes their gang affiliation with the Bloods, and one of Young Thug's music videos in which he threatens Wayne.
On Wednesday, Young Thug was arrested and has reportedly been charged today with drug and weapons violations, all stemming from an incident this month in which he threatened to shoot an Atlanta mall security guard. Earlier this week, Birdman allegedly threw a drink on Lil Wayne during a performance at a Miami nightclub.