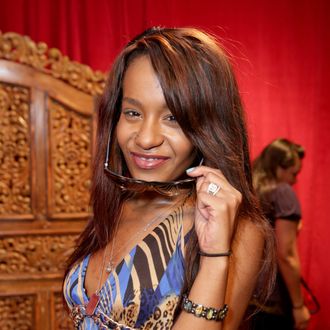 Bobbi Kristina Brown.
Photo: Tiffany Rose/WireImage
Medical authorities performing Bobbi Kristina Brown's autopsy have said they will need more time to figure out how she died because preliminary tests haven't revealed a specific cause, the AP reports. Brown, the young TV personality and only child of Whitney Houston and Bobby Brown, died Sunday night at the age of 22, after a roughly six-month roller-coaster health ride that started with a medically induced coma and ended with hospice care. All of those months are not helping her examiners, who have noted the autopsy could be "helpful to address questions which may arise about the cause of her unresponsiveness and eventual death."
"Normally, when we do autopsies, we do them in people who [have] freshly died. Things like toxicology and injuries are clear," Dr. Michael Baden, a former New York medical examiner, told the AP. "Because she was in the hospital for a long time, any drugs that may have been in the body will be gone after a few days. Injuries, if there were any injuries, would be changed by the length of time, the healing process." The Fulton County Medical Examiner's Office, which is working on Brown, said Monday that it could be several weeks before a cause of death is found. 
A police report described Brown's death as a drowning, according to the AP, because she was initially found unresponsive in the bathtub of her Roswell, Georgia, home. The Roswell Police Department said Monday it's still investigating the events — eerily similar to those surrounding the late Houston — that have now led to death. (No charges have yet been filed.) After news of Brown's passing broke last night, her family issued a statement saying she was "finally at peace in the arms of God." One day later, her father, Bobby Brown, and Nick Gordon, who has been described as her boyfriend and partner, released their own personal statements, obtained by USA Today.
"Krissy was and is an angel. I am completely numb at this time," Bobby Brown said, through his lawyer. "My family must find a way to live with her in spirit and honor her memory. Our loss is unimaginable. We thank everyone for the prayers for Krissy and our family as we mourn my baby girl." Gordon, who was sued by Brown's conservator for abuse and embezzlement, gave his statement through his mother and his lawyer. "The passing of Bobbi Kristina is devastating to Nick and our family," Michele Gordon said. "Nick loved and cared for Krissi [sic] deeply, and he has suffered greatly each and every day they've been apart. Nick and our family are in mourning, and we ask that you respect our privacy. Our thoughts and prayers are with both the Houstons and the Browns during this difficult time." Brown is also survived by her grandmother, Cissy Houston, and her aunt and uncle.