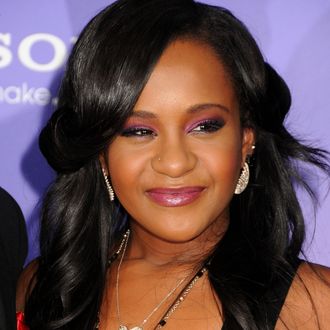 Bobbi Kristina Brown.
Photo: Byron Purvis/Corbis
Bobbi Kristina Brown, the young TV personality and only child of Bobby Brown and the late Whitney Houston, died Sunday in Duluth, Georgia, according to her family. Brown had been placed in a series of hospitals for nearly half a year, after she was found unresponsive in her home. "She is finally at peace in the arms of God," the family told NBC News in a statement. "We want to again thank everyone for their tremendous amount of love and support during these last few months." She was 22.
The news of Brown's death comes on the heels of a roller-coaster health ride, which saw Brown enter a medically induced coma, suffer irreversible brain damage, and ultimately land in hospice care. In circumstances eerily, tragically similar to those of her mother's death, Brown was found facedown in the bathtub of her Roswell, Georgia, home at the end of January. For months Brown generated headlines as she switched hospitals, as Nick Gordon (who has chiefly been labeled her boyfriend-slash-partner) stirred drama on the home front, and as family members gave conflicting accounts as to the state of her coma. Although police investigated her cryptic medical situation, no foul play was ever suspected and no criminal charges ever filed.
Given her musical powerhouses of parents and her inheritance, it was impossible for Brown to avoid the celebrity spotlight and the pages of the tabloids. She was born in Livingston, New Jersey, to parents who deeply loved her. "She brings both Bobby and I a lot of joy," Houston told Entertainment Tonight in 1993. "It's a different thing when you become a mother. It changes your whole perspective on life. You really don't live for you anymore. You're living for your children." 
When Houston was alive, a young Brown would occasionally appear onstage and on TV with her mother. On the unscripted front, she was featured prominently in Being Bobby Brown, as well as The Houstons: On Our Own. She made her scripted acting debut on Tyler Perry's sitcom For Better or Worse in 2012. "She did a fantastic job," Perry told The Hollywood Reporter that same year. "And that kid has a such a future. She's such an actor. I'm so proud of her. I'm telling you, as far as she wants to go in the business, she can." Brown had said she wanted to extend her mother's legacy, telling Oprah Winfrey roughly a month after Houston's death that she was planning on forging a triple-threat career to sing, dance, and act; and tweeting this earlier in January:
Here's a clip of her singing Houston's "I'm Your Baby Tonight":
As well as some Adele:
Brown is survived by her father and her grandmother, the famous gospel and pop singer Cissy Houston. R.I.P., Bobbi.