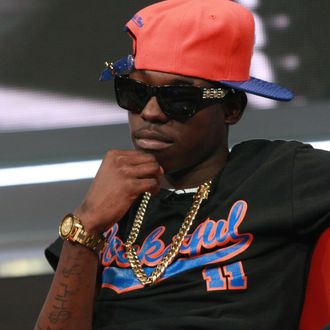 More bad news for Bobby.
Photo: Bennett Raglin/BET/Getty Images
One of the saddest stories in hip-hop just got worse: Bobby Shmurda, whose viral song "Hot Nigga" arguably landed him in jail last year, is now possibly facing an even longer sentence. On Thursday, Shmurda (né Ackquille Pollard) plead not guilty to felony and misdemeanor charges of prison contraband, perjury, and criminal possession of a weapon. These new charges stem from an incident on June 21, when Shmurda's reported girlfriend allegedly tried to sneak him a "sharp metal object" during a visit. The woman, Kimberly Rousseau, 18, also appeared in court Thursday and plead not guilty to promoting prison contraband.
Shmurda has been held in Rikers Island prison since December on conspiracy to commit murder, weapons, and drug charges related to gang activity (his label, Epic Records, has declined to post his $2 million bail). And, if convicted, he faces up to 25 years in prison; that case goes to trial on October 5. (He recently turned down a plea deal that would've offered him an eight-year prison sentence.) But if Shmurda is convicted on these new charges — that trial starts October 14 — he could face an additional seven years in prison.