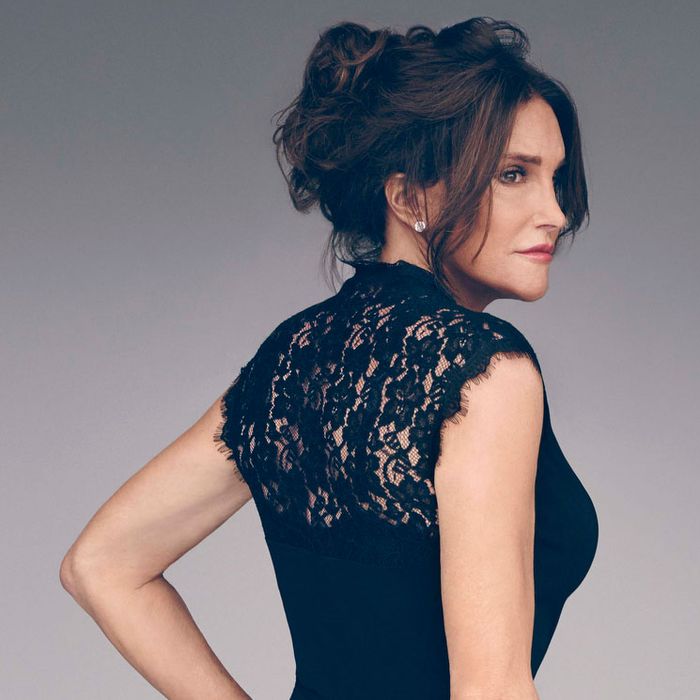 Caitlyn Jenner.
Photo: James White/E! Entertainment
Back in April, Caitlyn Jenner gave what many LGBTQ activists consider a historic interview to Diane Sawyer, during which she came out as transgender on prime-time network television. Days later, E!, the network home to the Kardashian empire, announced it would air a two-part special called About Bruce at the end of Keeping Up With the Kardashians' tenth season, revealing how Caitlyn broke the news to her famous family. In the emotional special, Caitlyn spoke with her kids about what her transition will mean for the rest of them.
That special was a test-run, for both Caitlyn and E!, to see how their fan-favorite reality series would look with one of its most underappreciated characters (and last names) running the show. From a public-relations angle, About Bruce was the Kardashians' way of telling a side of the story we didn't get to hear during Caitlyn's 20/20 special. (None of them appeared on the Diane Sawyer exclusive.) It also strategically set up Caitlyn's transition to become the show's next must-watch spectacle — one that will play out on an eight-part docuseries, I Am Cait, premiering this Sunday on E!, which will follow Caitlyn's initial weeks publicly presenting as a woman.
But if About Bruce was any indication, I Am Cait — which is produced by the same people who brought us Keeping Up With the Kardashians — will be a very different viewing experience from KUWTK, which acts as a filtered paparazzi lens into the Kardashians' TMZ drama-of-the-day. The About Bruce special, meanwhile, took a much subtler approach — note its tone-setting usage of a beach backdrop for the cutaway interviews, B-roll of sunsets and ocean waves, and serene score, all of which suggest a more intimate portrait of America's most photographed family as well as its current most famous woman. And in observing Caitlyn over the years on KUWTK, we've also received a few clues as to what this new experience might look like.
Over ten seasons of KUWTK, Caitlyn was the show's most sidelined and ridiculed character ("I'm Bruce Jenner, and I am a pushover for my family," Jenner says in the pilot). Caitlyn's role on the show, we quickly learn, is to play bad cop to Kris's good cop, a role that's often framed as a comedic foil. Caitlyn would show up uninvited to Girls Gone Wild photo shoots in Mexico to chaperone Kourtney, Kim, and Khloé, and send 11-year-old Kylie to her room if she had on too much eyeliner. But Caitlyn's at her best on KUWTK when she breaks "character" and tries something new. In season two, what should've been a miserable shopping trip with a stylist (whom Kris talks Caitlyn into seeing after complaining Caitlyn dresses "like a grandpa") turns out to be a charming, overdue confidence boost. A few seasons later, while Kris parties on a yacht in New York City for the Fourth of July, leaving "boring" Caitlyn behind, Caitlyn one-ups Kris by going clubbing with stepson Rob and his friends. Caitlyn, who impulsively got pierced ears and a haircut, anticipates Kris's shocked reaction with delight. It's ultimately played for laughs, but it's also one of Caitlyn's most interesting moments on the show. It's that warmer side of Caitlyn (one we rarely experienced with the oft-exasperated Bruce) that'll likely give I Am Cait a sense of authenticity that doesn't always come through on KUWTK.
And what's most telling about Caitlyn's role on KUWTK is that she's quietly provided the show with some of its most teachable moments, particularly when she struggles to raise a family that so often dismisses her efforts. We've seen Caitlyn own up to the mistakes she made as a parent to her youngest son when Brody attempts to repair their relationship in later seasons. She's proven herself a crucial source of stability, especially for the two youngest Kardashians, who never got to know their father. When Rob tells Kris — in front of Caitlyn — that he feels like he has no father figure to help him buy a house, Caitlyn sets aside any hurt feelings and continues to offer Rob guidance. She forces her youngest daughters to volunteer at a homeless shelter to teach them a lesson about privilege. And she serves as protector for Khloé during her whirlwind wedding to Lamar: After forgiving Khloé for excluding her from the engagement news, Caitlyn gives a surprisingly candid toast at the rehearsal dinner in which she reveals that, two weeks before Robert Kardashian died of cancer in 2003, she promised him to "always take care of his kids" after he was gone. Khloé would later entrust Caitlyn with the honor of walking her down the aisle and giving away the bride.
On About Bruce, Khloé demands that her stepfather be as forthright with her family as she's prepared to be with the world following the Sawyer interview. Caitlyn answers every question about her sex life with ex-wife Kris Jenner and sex-reassignment surgery with grace and patience. And on I Am Cait, Caitlyn will likely be just as sensitive about family as she's been for years on KUWTK. This time, though, she won't be framed for our amusement.