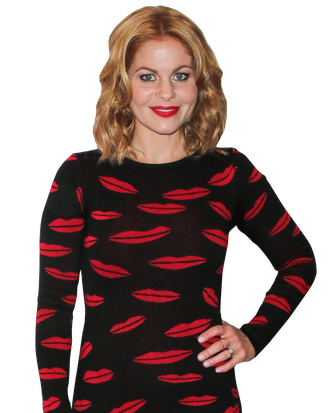 Photo: Paul Archuleta/FilmMagic
When Candace Cameron Bure appeared alongside former Full House flame Scott Weinger on the finale of ABC's overlooked sitcom The Neighbors (for which Weinger was a writer), it may have been prophetic. Almost exactly a year later, John Stamos announced to the world that Full House was being spun off into the Netflix series Fuller House, focusing on Bure's grown-up D.J. Tanner as a pregnant widow with two kids who gets by with the help of BFF Kimmy (Andrea Barber) and sister Stephanie (Jodie Sweetin).
Bure, who took a sabbatical from acting in the early 2000s to raise her own children, has kept anything but a low profile over the ensuing months. In early July, she brought bipartisan controversy back to The View. A few weeks later, she starred in the Hallmark Movies and Mysteries Channel's adaptation of True Blood author Charlaine Harris's Real Murders: An Aurora Teagarden Mystery. And on August 1, she releases her latest, faith-based biographical book, Dancing Through Life, chronicling her time on Dancing With the Stars in 2014 (she finished third).
Talking from her L.A. home days before commencing production on Fuller House, Bure discusses returning to the show that made her a child star, and whether secular audiences can relate to her work.
Were you bummed that your book was finished before you could include anything about the Full House reunion?
No, not at all. It's so separate and different from Fuller House. I just stay on topic of what I want the book to convey. I never had the right platform to write about courage and conviction, and when I did Dancing With the Stars, it was the perfect place to have a conversation about those things.
And now that you've been through the reality mill, was the overall experience positive?
For sure. This is the only reality show I've ever done, and the only I ever accepted, because I've been asked to do just about every one. I learned so much about myself in such a short time. Those lessons are things that everybody can learn from, and it has nothing to do with being on a reality show, because these are types of things everyone goes through.
Can a non-Christian DWTS fan get something out of the book?
Absolutely, because I do share the day-to-day that was going on within the show. If you're simply reading it as a fan of the show, I think you'll get an inside perspective. You don't have to be a Christian to read this or have the same viewpoint as me. I share what works for me. You can take what resonates with you and leave the rest.
You're not worried about alienating potential Fuller House viewers by being so outspoken on religion?
No, I don't worry about that at all. That's always been the foundation of who I am as a person and what my work really revolves around, not in the sense that I only do Christian projects. In fact, I do very few, but everything I do, they've all been about family-friendly content. I've worked extremely hard to be in the position I'm at, and I think I've been under the radar for a long time, in that not everyone realizes the amount of work I do. I've stuck to my guns always to produce the kinds of programming I want to, and that's the very reason I've been successful, because I haven't wavered. I haven't done something just for the sake of the exposure or money.
Suffice to say, Fuller House isn't going to be some kind of edgier spinoff.
Yep, absolutely. The fans have been so loyal for more than 25 years. We still have new fans for the original show, because it's never been off the air in syndication. So we would never want to bring this spinoff show and turn it into something the fans aren't going to expect. And what they expect is something that's wholesome, that you can sit down and watch with your whole family. So we're gonna keep that same mold for Fuller House.
The premise of a widowed singled parent is ostensibly the same as Full House, but were you worried about it being a bit morbid?
I didn't think it was dark at all. It's sad, but I didn't go to that place when I heard. I thought it was a great way to start the show off, because it is the same premise as the original show and that's part of why that show was special, because it was a single dad raising these kids. Sometimes it just makes for more interesting television and story lines when you don't have to get involved in all the reasons of why someone's not married or divorced. Not that we're not tackling that with other characters.
Were you surprised Netflix picked it up, since they are known for more cultish programming?
I think Netflix was incredibly smart. Because they do have edgier content, it's the very reason they picked up Fuller House, because they also want to bring family-friendly content and [have people] know they're also a place for families to come to.
Bob Saget and John Stamos have done some edgier stuff since Full House. Were you surprised they wanted to return to it?
I wasn't surprised at all, because I think this show put every single one of us on the map. Even if some of them were on the map before, it gave every one of us a different and more substantial credibility. It's almost a way to pay homage to it, to say thanks to all the fans. All of us have nothing but love and good memories and feelings about the show, so I think we all knew everyone would come back for an episode.
And is it correct to infer that some cast members might just pop in here or there while others will be series regulars?
Correct. The first episode will give that reunion I think a lot of the fans are looking for, and then it goes into the spinoff show, which is about these three ladies raising four kids. From time to time, some of the other characters will pop up now and again.
Netflix notwithstanding, given Full House was on ABC and you were just on The View, The Neighbors, and DWTS for ABC, do you wish it could be full circle there with Fuller House?
Well, it's one of those things: You don't want to put all your eggs in one basket. While it would be great if it were on ABC, it's a wonderful thing for me on Netflix, cause then I'm working with several different companies, which just broadens the platform.