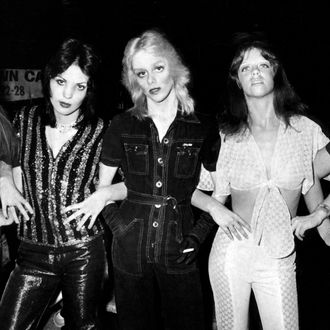 Photo: Richard E. Aaron/Getty Images
Speaking with the Huffington Post recently, Jackie Fuchs alleged that former Runaways manager Kim Fowley raped her in front of her former band mates. One of those former band mates, Joan Jett, issued a response, saying she "was not aware of the incident." Now another Runaways member, Cherie Currie, has offered her own response via Facebook:
I have been accused of a crime. Of looking into the dead yet pleading eyes of a girl, unable to move while she was brutally raped and doing nothing. I have never been one to deny my mistakes in life and I wouldn't start now. If I were guilty, I would admit it. There are so many excuses I could make being only one month into my sixteenth year at the time that people would understand but I am innocent. When I return from Sweden I will seek a qualified polygraph examiner to put to rest any and all allegations. I will make public the questions, answers and results of that test. I am a proud person but for this, I may need to open a Fund Me account since I do not know how much this will cost. I am not a rich person but a carver. I wouldn't ask for funding for my new album because I am proud. I will prove I am telling the truth. I will not allow anyone to throw me under the bus and accuse me of such a foul act. I will fight for myself. It is the only thing I can do and I'm glad to do it.
She added: "All I can say is if Joan, Sandy and I saw an unconscious girl being brutally raped in front of us, we would have hit him over the head with a chair."
When speaking with HuffPost, Fuchs said that Currie had planned to write about the alleged rape in a memoir:
Jackie's trauma intensified after learning in 2000 that Currie wanted to write about the rape for a memoir. Currie depicted the incident in lurid detail, but instead of Jackie, the victim was a fictionalized groupie who encouraged her rapist. Jackie was merely a bystander, and an indifferent one at that. Jackie threatened legal action over this account, at which point Currie collected affidavits from two witnesses. The publisher ultimately decided to pull the book, and Jackie continued to stay silent about what had happened to her. She wasn't ready to come out as the true victim.
In a reply to a commenter on Facebook who mentioned the alleged incident's inclusion in that book, Currie wrote:
Jackie was altered. I didn't know her well at that time. I also know that young girls slept with older man far more then date of their own age. It was the 70's culture. Some things had to be altered in that chapter but if I had for one minute heard Jackie say stop instead of acting like an active participant I would have cracked his skull. That night was traumatizing to me because I had never witnessed such a thing. That was why I had to write about it even with not using Jackie as part of it. She had me dropped from my book deal in 2000 because of her legal threats to the book company. Statutory rape is rape by law. But no 16 year old girl is going to be able to stop something that neither party seemed to want to stop. I left in disgust but I faced Kim with no support from Jackie. The timing sucks and I am being accused of watching "a brutal rape" and doing nothing.
Currie also linked on Facebook to a post by Evelyn McDonnell, who wrote the 2013 Runaways book Queens of Noise. McDonnell says: "I have issues with the story's sometimes sensationalist tone, the reporter's methods, and some of the response to it online – particularly the way other women tangential to this story (including Joan Jett and myself) are also being targeted and blamed, by men."