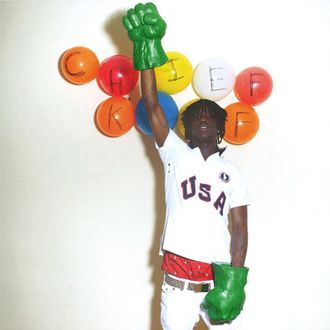 Nineteen-year-old rapper Chief Keef was slated to perform, via hologram, at the rap festival Craze Fest, held about 25 miles outside of Chicago. Keef had partnered with Los Angeles–based company Hologram USA to transmit his performance to the event in Hammond, Illinois, using a soundstage in Beverly Hills. He had billed the performance as a "Stop the Killing" benefit in honor of Marvin Carr, a friend who was shot to death earlier this month, and Dillan Harris, a 13-month-old killed by a vehicle fleeing the scene of that shooting. (Fans were encouraged to donate money for the victims' families.) The rapper wouldn't venture to Chicago himself, since there are outstanding warrants for his arrest there.
Police shut down the performance within minutes, however, the New York Times reports. Malcolm Jones, a Craze Fest promoter, told the Times the police "didn't have a real reason. They believed that it would start trouble, but the first thing Chief Keef said via hologram was: 'Chicago, we need to stop the violence. Let our kids live.'"
According to the Chicago Tribune, "Police rushed toward the stage, turning the music off about 10:25 p.m. Shining flashlights, they ordered concertgoers to leave. Fans who gathered Saturday left the grounds in an orderly fashion, though disappointed."
Keef was also supposed to perform last week at Chicago's Redmoon Theater, but representatives for Mayor Rahm Emanuel's office deemed the rapper "an unacceptable role model" whose music "promotes violence," and shut it down.
Hammond mayor Thomas M. McDermott Jr. said, "All I'd heard was he has a lot of songs about gangs and shooting people — a history that's anti-cop, pro-gang and pro-drug use. He's been basically outlawed in Chicago, and we're not going to let you circumvent Mayor Emanuel by going next door."
Keef, part of the Chiraq gangster rap scene of Chicago, was discovered by Kanye West, who has since collaborated with the young rapper. Keef has had a multitude of legal run-ins: When he was 15, he was arrested for heroin manufacturing and distribution, and was accused of the murder of fellow rapper Joseph Coleman by Coleman's mother.
Hologram USA CEO Alki David issued a statement:
"Shame on the mayor and police chief of Hammond for shutting down a voice that can create positive change in a community in desperate need. And for taking away money that could have gone to help the victims' families. This was a legal event and there was no justification to shut it down besides your glaring disregard for the first amendment right to free speech. Mark my words if you censor us you only make us stronger."