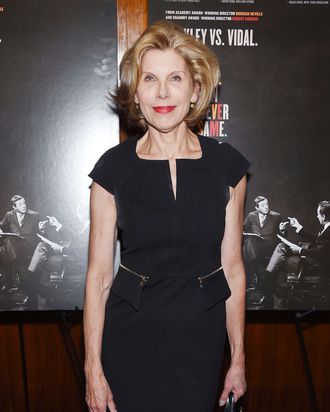 She likes being a badass.
Photo: Dimitrios Kambouris/Getty Images
Recently, The Good Wife co-showrunner Robert King said he regrets that Oliver Platt's arc was so short, and it turns out Christine Baranski feels the same way. "My favorite episode that I ever did on The Good Wife was with Oliver Platt, and it was the wedding cake, the gay-marriage episode," Baranski told Vulture at the Peggy Siegal Company screening of Best of Enemies, a documentary about a series of vitriolic debates between William F. Buckley Jr. and Gore Vidal on live TV during the 1968 presidential campaign. In the episode, Platt plays conservative client R.D., who hires Baranski's Diane Lockhart to argue the liberal side of a mock case about whether a bakery can refuse to sell a wedding cake to a gay couple.
"I would have liked to have done more intellectual arguments, à la Buckley and Vidal, with Ollie Platt," Baranski said. "Because a lot of that episode was batting around the conservative and liberal opinion, and it was so fun to do, and it was so well written. It's such a strength of the writing of Good Wife. They really take up contemporary issues and argue deeply and intelligently about [them]. And I love that Diane was just in her element, going toe to toe with this Republican guy with a lot of money and considerable charm and brains. And I thought it was a great combination."
Platt couldn't devote more time to the show because he'd been cast in the NBC series Chicago Med, but Baranski holds out hope that he'll return. "Maybe he'll come back for some guest stuff," she said.