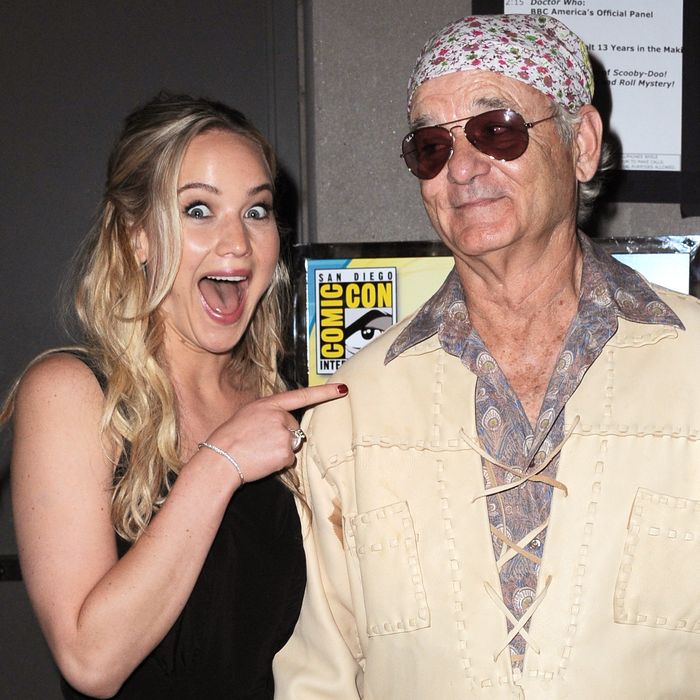 Photo: Albert L. Ortega/Getty Images
Comic-Con began in earnest this morning, and the fan convention in San Diego has already produced its first major moment: As Bill Murray left Hall H (where he'd made a surprise appearance to promote his upcoming film Rock the Kasbah), he ran into Jennifer Lawrence, who was heading in to talk about The Hunger Games: Mockingjay - Part 2. The two posed for the picture you see above, and the beguiling mix of J. Law's OMG attitude and Murray's blasé cool immediately made their moment go viral.

But what did the two of them talk about? Vulture managed to collar Lawrence after her Hall H panel concluded, and she explained to us what went down by first injecting a little bit of backstory.
"Like the rest of the world, I've been a huge fan of Bill Murray for a very long time," she said. "I always wanted to meet him, and I had kind of spoke to him through Woody Harrelson," who co-stars with Lawrence in the Hunger Games franchise and has shared the screen with Murray in films like Kingpin and Zombieland. "I would send emails to Woody, mostly when I was drunk. Things I always wanted to say to Bill Murray. He received them, and so just the fact that Bill Murray knows I exist is part one, and part two is he wanted to speak to me."

And that's how the two of them ended up face-to-face at Comic-Con today. But what was discussed? "He mentioned something about us working together," said Lawrence, covering her face to suppress a major grin. "I dunno! But I'm excited about that."
Hollywood, please make haste and get these two into a movie together. But here's another idea, should Murray's schedule prove to be a sticking point: Why not reunite Lawrence with her Hunger Games co-stars Josh Hutcherson and Liam Hemsworth and have them play their on-screen chemistry for laughs this time?
The thought occurred to me while watching those three actors bounce off of one another at the very funny Mockingjay - Part 2 panel. After a serious opening where we saw the film's new trailer (and a propaganda video unspooled that put Lawrence's Katniss Everdeen in a warehouse of military men who seemingly aped the dance from Rhythm Nation), Lawrence, Hutcherson, and Hemsworth came out and promptly commenced cracking up. By this time, Lawrence and Hutcherson have the seasoned rapport of a comedy duo, firing off jokes at each others' expense, but even the handsome Hemsworth got into the act this time, providing a valuable straight-man foil to his co-stars.
I mean, c'mon:
Can we put these three fun dopes in a comedy, please? An improvised, contemporary spin on Cyrano, perhaps, with Josh Hutcherson tutoring Liam Hemsworth on how to win the heart of gross and gorgeous Jen? (I would also accept Jen teaching Josh how to woo Liam. I'm not picky!)
A few more highlights from the three of them:
- Lawrence repeatedly lost her train of thought while answering questions, and Hutcherson never let her forget it. "What have we learned over the years about me and public speaking?" she moaned, as Hutcherson answered, "Don't do it. I have a kill switch for your mike under the table." Later, Lawrence stumbled through an answer and insisted, "What I have in my head is actually pretty interesting … You guys, I haven't done interviews in like a year."
- What was Lawrence's favorite moment to shoot as Katniss? She was hard-pressed to think of one when asked. Right off the bat she nixed that empowering arrow-in-the-sky scene from Catching Fire — "That was not as climactic in person as you would think" — and dangled on the edge of an answer for a while until a fan shouted, "I love you, Jennifer!" Hutcherson shook his head: "That does not help her right now. Her mind does not need any more sidetracking." Eventually, Willow Shields, who plays Prim, suggested the "I volunteer as tribute" scene. "That was cool! Good suggestion," said Lawrence. "Thank you, honey."
- No matter whether you're Team Gale or Team Peeta, the three leads gave you plenty to 'ship. In fact, they suggested all new possibilities: "We have a really emotional scene together," Hemsworth said of a major Mockingjay - Part 2 moment between Gale and Peeta, before adding with a trollish smile, "and there may be a kiss between Josh and I." "No spoilers, man!" Hutcherson yelped. Lawrence fanned the flames further when she was asked how the cast felt on the day they wrapped the last movie. "There's no way of saying this that doesn't start rumors," said Lawrence, "but that night we held each other and slept like puppies."
- Can the cast do that eerie Mockingjay whistle? "Every time I try to do it," said Hemsworth, "it sounds like the X-Files theme."
- Asked whether any of her characters have rubbed off on her, Lawrence replied, "The drinking really rubbed off on me from American Hustle. I'm kidding!" She added, "I would hope that a little bit of Katniss has rubbed off on me, but nothing about us is similar, because she's brave and I'm an actress."
- Lawrence and Hemsworth would repeatedly touch Hutcherson's face, either to console him (as he got emotional recounting Mockingjay's ending) or unnerve him. Hutcherson complained twice that Lawrence's fingers smelled, and she insisted that they didn't; at a later press conference, I caught her smelling them and apologizing to her co-star. "Oh, it's ranch dip."
- Lawrence doesn't acutely feel the pressures of fame, she said at that press conference, because "We're always at Liam's house in Malibu drinking wine." In fact, they spend so much time there that she's gotten Hemsworth hooked on junky reality television. "You love Vanderpump Rules, you do," she said, revealing that Hemsworth recently sent her a very inside-baseball text about that Bravo show's cast: "Kristen and Tom used to date?!"
- But back to that panel, where Lawrence's self-acknowledged brain farts culminated in a triumphant moment. After admitting, "I'm blacking out right now, I can't even remember this entire period of my life," a fan asked her what real-world lessons she's learned from the Hunger Games story. "At the beginning of this movie, this was one girl standing up to something huge and gigantic," Lawrence enthused, before stopping, starting, and laboring to finish her thought. Finally, it clicked: "The power of the future is with you and in your hands," she intoned dramatically. The audience cheered. Lawrence stood up and dropped her mike.