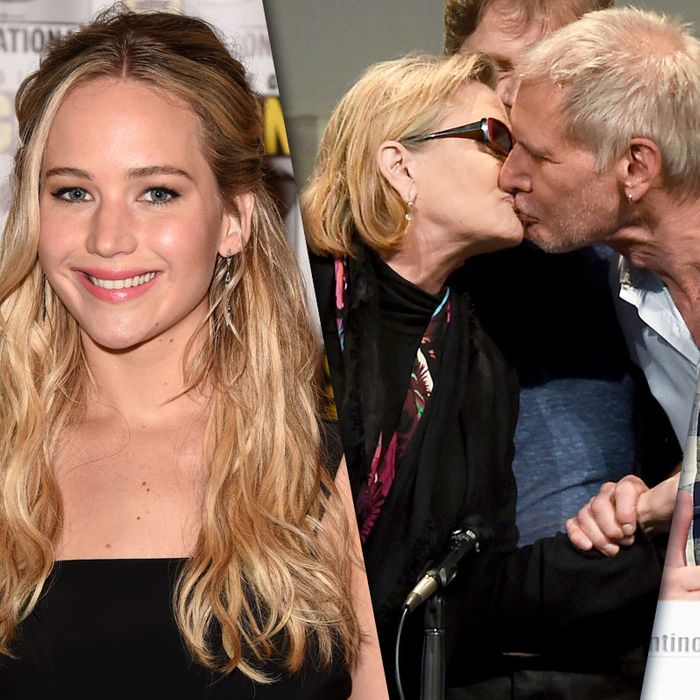 Your faithful Vulture team has made it through the San Diego gauntlet that is Comic-Con, having returned from Hall H with scoops and impressions and only a few cuts and bruises. (Look, Outlander fans are nuts.) So which movies came out of Comic-Con with a big bump, and which left us stumped? Here are our winners, losers, and everything enticing in between.
Biggest Pop
Deadpool almost didn't get made, and it's still not clear whether there's a big audience for it outside the comic-book fans who stuffed Hall H for a first look. But within that specific demographic, the Ryan Reynolds snarky-superhero movie was a huge win, and the trailer played like gangbusters. And in a world where we're already so superhero-supersaturated, maybe there's room for a lower-budgeted, lower-reward riff on the genre that will more than please the faithful?
Most Intriguing Ensemble
Once upon a time, Will Smith turned down the lead role in Django Unchained because he felt it was secondary to the part Christoph Waltz got to play. (Maybe he's right: Waltz won an Oscar for the movie, while its Django, Jamie Foxx, wasn't even nominated.) Smith isn't much for subservience, which is why it's unexpected to find him among the ensemble for Warner Bros.' villain-stuffed Suicide Squad, where he takes a backseat to his fellow actors Viola Davis, Margot Robbie, and Jared Leto, at least to judge by the trailer. Smith likely leads the squad in question, but as far as the marketing is concerned, he's just the guy who isn't even glimpsed until a minute and 15 seconds into the teaser.
Most Pernicious Trend
It's been only a day since Comic-Con ended, but virtually every major trailer or piece of footage we were shown at Hall H has since leaked online, and those shaky-cam clips have been published by a variety of big news sources. Already, movie studios are wary of coming to Comic-Con, and a lot of the usual suspects no longer go, citing the expense and limited upside; now that fans have so flagrantly bootlegged the footage that was only meant to be watched there, expect a chilling effect on what's shown (and which studios still bother go) at next year's Con.
Best Reward
Then again, at least Star Wars gave its faithful fans a reward that could only be experienced in the flesh. For the thousands who'd camped out overnight to get into Hall H, it was moving enough to see Harrison Ford take the stage with his old co-stars Mark Hamill and Carrie Fisher, especially when he appeared to have a full-circle appreciation for the franchise he'd sometimes been contentious about. But the best part came right after, when The Force Awakens director J.J. Abrams led all of those fans to a nearby outdoor concert where they could wave free lightsabers and listen to the franchise's iconic John Williams score, played by the San Diego Symphony Orchestra. By the time fireworks punctuated that stirring music, it was clear that the superfans were experiencing a communal, ecstatic, once-in-a-lifetime moment that made their pilgrimage worth it.
Biggest Head-Scratcher
If everyone who has played World of Warcraft buys a ticket to the upcoming movie adaptation, then Legendary Pictures will surely make a mint off this expensive humans-versus-orcs fantasy epic. Still, the scenes and trailer they showed for Warcraft left the thousands of fanboys in Hall H mostly unmoved, and for those unfamiliar with the property, it all looked a little bit impenetrable. (And not much fun, to be honest.) Director Duncan Jones is talented, to be sure, but it's dangerously telling how fast Warcraft was forgotten by the end of the day.
Most Startling Blind Item
Warcraft star Rob Kazinsky (whom you may remember as Sookie's fairy paramour Warlow on True Blood) dropped a whopper of a secret on Hall H during Entertainment Weekly's "Brave New Warriors" panel. When moderator Lynette Rice asked the men on the panel about their experiences with sexism in Hollywood, Kazinsky mentioned a "very, very, immensely powerful figure in the industry" who had spent a long time attempting to woo him in his early 20s, introducing him to agents and other superstars with the promise of hooking him up if they, well, hooked up. "It was complete harassment," said Kazinsky. "I understand the fear people have coming forward about something like that, because especially as a man you feel like you should be able to handle a situation like that, but when you're a young kid in this industry, you often can't."
Least Necessary, But Most Welcome
There is no reason that Rock the Kasbah, a small comedy about a washed-up rock promoter, should have come to Comic-Con. However, its presence did at least ensure that star Bill Murray would be on hand to make his Comic-Con debut, and the actor was highly quotable, telling old Saturday Night Live stories and referencing Ghostbusters when asked about his favorite role: "Well, once upon a time, I did save the city of New York." Even better, he ran into Jennifer Lawrence backstage, an encounter that may even produce a new project!
Sweetest Genuflections
Quentin Tarantino and Joss Whedon both had their moments holding court in Hall H, and the first fan to ask a question at both Q&As was a telling reminder of their impact. Tarantino was greeted by a young girl adorably dressed as Uma Thurman's Kill Bill bride, while the overcome black woman who queried Whedon was brought to tears in his presence. "I never got to thank Gene Roddenberry for Uhura," she said, pivoting to a black female character that Whedon created for his sci-fi series Firefly: "I have to thank you for Zoe."
Most Homoerotic
At a fan convention like Comic-Con, you're never that far away from a question about a "slash pairing." That'd be the fanfic-driven notion of two same-sex characters getting it on (in a show or movie that doesn't necessarily lean that way), and it came up over and over again this weekend, like when Hayley Atwell was asked about the "Cartinelli" fans who want her paired with a female supporting character on Agent Carter, or when the Vampire Diaries crew teased fans with a parody clip that saw Ian Somerhalder smooching one of his fellow actors. The slashiest panel, though, had to be the short one touting Victor Frankenstein, which stars James McAvoy as the titular doctor and Daniel Radcliffe as his assistant Igor. Virtually everything the stars said was an unintended double entendre (especially when McAvoy said, "We go at it all day, 24 hours a day, no kneepads" — he was talking about stunt work, people!) and the whole thing culminated with McAvoy pushing his co-star up against the wall in a feels-inducing stunt that moderator Chris Hardwick predicted would "break Tumblr."