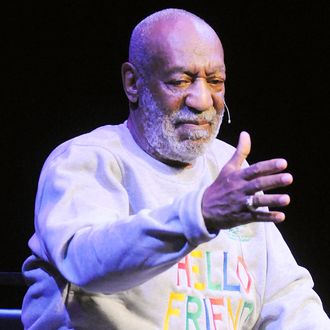 Bill Cosby.
Photo: Gerardo Mora/Getty Images
Bill Cosby's team will no longer be able to stave off Gloria Allred and Judy Huth, both of whom are using an underage sexual-assault allegation to push the embattled comedian toward a new deposition. Huth sued Cosby for sexual battery last year, claiming he molested her at the Playboy Mansion in 1974, when she was 15. Cosby had been trying to ward off this suit to avoid answering questions under oath, but on Wednesday, according to multiple reports, the California Supreme Court without comment quashed his latest attempt to stall. (NBC News reports that Cosby had filed a petition to review earlier rulings in the suit because of "procedural errors.") With an unimpeded path, Allred is gunning to question Cosby "as soon as possible within the next 30 days."
"We are looking forward to Mr. Cosby answering questions under oath at his deposition and we will continue to seek justice for our courageous client," Allred, Huth's attorney, said in a statement, according to Reuters."It's a very big victory." L.A. authorities had been investigating Huth's claims, but Cosby was ultimately not criminally charged or prosecuted because of California's statute of limitations. If Allred nails down a deposition date, it will be Cosby's first time addressing sex-assault allegations since Andrea Constand's 2005 lawsuit — portions of that transcript were unsealed earlier this month and have stirred an ethical maelstrom all their own. Aside from denying the many accusations against him, Cosby and his team have been mostly mum on the matter.
In other Cosby news, the former TV legend's latest biography, Mark Whitaker's Cosby: His Life and Times, is also facing a bout of trouble. The AP reports that no revisions, future editions, or paperbacks are in the works for the contentious book, which notably skates over Cosby's recent history of legal drama surrounding the alleged sexual assaults. A Simon & Schuster executive told the AP that the publisher isn't planning on pulling the book, but it had begun pulling praise blurbs from Billy Crystal, Mary Tyler Moore, Dave Letterman, and Jerry Seinfeld, among other luminaries. The celebs, like other brands who have severed ties with Cosby as of late, reportedly requested that their names be removed.