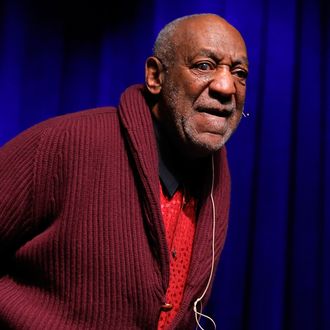 Bill Cosby.
Photo: Jemal Countess/Getty Images
Bill Cosby's on the offensive again. Days after court transcripts were leaked that had Cosby detailing his manipulation of women, the comedian's lawyers have now fired back by slamming the media and seeking to clarify their client's deposition. In a motion filed Tuesday, Team Cosby asked a Philadelphia court to keep the rest of Cosby's 2006 settlement sealed and essentially said the embattled comic did admit to giving women drugs, but didn't admit to sexually assaulting anyone. "The media immediately pounced, inaccurately labeling the released testimony as defendant's 'confession' of 'drugging' women and assaulting them," Cosby lawyers Patrick O'Connor and George Gowen wrote in the filing, according to the AP. "Reading the media accounts, one would conclude that defendant has admitted to rape. And yet defendant admitted to nothing more than being one of the many people who introduced quaaludes into their consensual sex life in the 1970s."
With the motion, Cosby's lawyers hope to erase his recent branding as a rapist, because, according to them, he didn't give his (many) accusers drugs "without their knowledge or consent" or engage "in any non-consensual sex." "Emboldened by the media's one-sided reporting, [Temple University employee Andrea Constand] has now filed a motion that is a barely veiled attempt to continue her and her counsel's campaign against him in the public eye," the attorneys wrote, according to Variety, "despite having settled her actual claim against him and having agreed to say no more." That motion was put forward, according to People, because Constand's attorney argued that Cosby himself has chosen to ignore the settlement's confidentiality provisions. "For Cosby's repeated violations of the confidentiality agreement and attempt to sway public opinion in his favor this motion would not have been necessary," she wrote, according to People. "The release of these documents will assist other women who have been victimized."
The federal judge in Philadelphia who was overseeing the case decided to release the deposition transcripts earlier in July because of Cosby's role as a "public moralist," according to the AP. The deposition transcripts are currently Cosby's only public comments about his sexual-assault accusations. He has not been criminally charged for anything and wants court sanctions against Constand and her team to make the leaks stop.