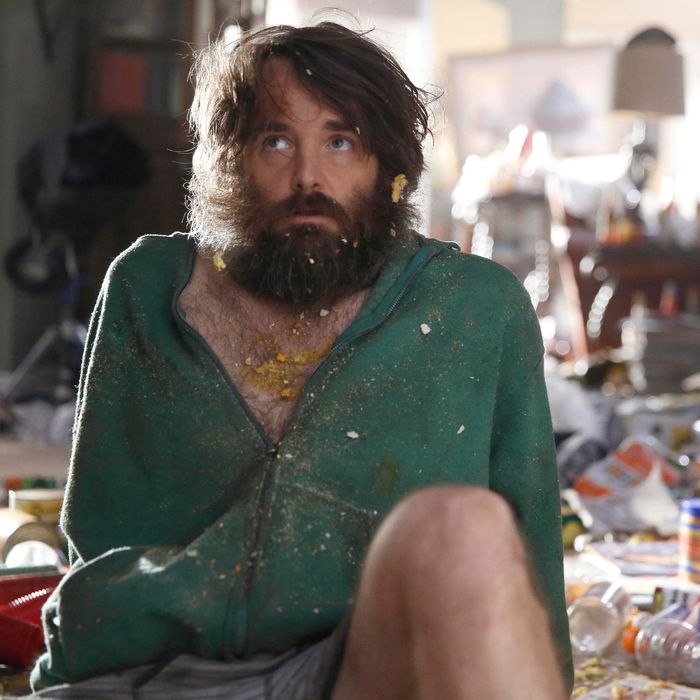 It was a good day for the last man.
Photo: Jordin Althaus/FOX
Today's Emmy nominations had a few snubs and a few high points too. To round out your Emmys analysis diet, here are some lesser-heralded nominations and trivia items that may have escaped your notice.
Jane the Virgin nabbed one very important nomination.
For its narrator, Anthony Mendez. Mendez is up against Neil deGrasse Tyson, who's nominated for Hubble's Cosmic Journey; Miranda Richardson, who's nominated for Operation Orangutan; Peter Coyote, for The Roosevelts; and Henry Strozier, who's nominated for Too Cute!
Which Too Cute! episode, you wonder? "Tubby Puppies." Tubby! Puppies!
Billy On the Street is going up against Katy Perry.
And if there's any justice in this world, he'll win. They're competing in the Outstanding Short-Form Live-Action Entertainment category, up against Between Two Ferns With Zach Galifianakis: Brad Pitt, an episode of Childrens Hospital, and Key & Peele Presents Van and Mike: The Ascension. But come on! Those are not better than Elena taking on Michelle Obama and Big Bird.
Splitting the Variety category into Variety Sketch and Variety Talk was a good call.
It opened the field enough that Drunk History was nominated for Outstanding Variety Sketch Series. It's up against Inside Amy Schumer, Key & Peele, Portlandia, and SNL, which feels like a very fair fight.
Kimmy Schmidt somehow did not get nominated for its opening theme song.
Also robbed? BoJack Horseman for its closing song. Instead, the nominees for Outstanding Original Main Title Theme Music are The Dovekeepers, Marco Polo, Penny Dreadful, Texas Rising, Transparent, and Tyrant.
(This is different from Outstanding Main Title Design. Those nominees are AHS: Freak Show, Bosch, Halt and Catch Fire, Manhattan, Marvel's Daredevil, and Olive Kitteridge. Somehow The Affair got shut out of both.)
The Last Man on Earth quietly had a good day.
Will Forte earned nominations for Lead Actor in a Comedy and for writing the show's pilot; the series picked up noms for Comedy Directing and Single-Camera Picture Editing for a Comedy. While the show had a buzzy enough first season, these nominations still come as a pretty big surprise.
Mel Brooks, too.
Probably every day is a good day to be Mel Brooks, but he picked up a handful of nominations this morning: Guest Actor in a Comedy (for The Comedians), Outstanding Variety Special (for Mel Brooks Live at the Geffen), and Outstanding Writing for a Variety Special (same). Plus, FX's A Tribute to Mel Brooks was nominated for Short-Format Non-Fiction Programming.
Robert Lopez and Kristen Anderson-Lopez, the husband-and-wife duo who wrote the music to Frozen, picked up two nominations.
Robert Lopez is already an EGOT, but his Es are for Daytime Emmys. The couple is nominated for their opening song from the Oscars and this song from The Comedians. (Robert Lopez co-wrote Book of Mormon, which, like The Comedians, stars Josh Gad.)
Outlander's only nomination is for Music Composition.
It's Bear McCreary's third Emmy nomination; he won for Da Vinci's Demons in 2013 and was unfairly overlooked for Battlestar Galactica for several years.