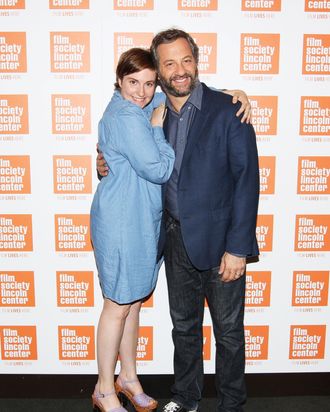 Apatow and his lesbian friend.
Photo: Rob Kim/Getty Images
On Monday evening, Girls star Lena Dunham sat down with her friend and collaborator Judd Apatow to discuss the upcoming release of Trainwreck, his film with Amy Schumer. The event, hosted by the Film Society of Lincoln Center, had the pair recalling early times in their friendship, one of which included Dunham meeting Diane Keaton at a Christmas party hosted by an actress whose "name rhymed with Mennifer Baniston."
When Keaton saw Dunham, she asked Apatow, "Is this your wife?" He replied, "No, this is my friend Lena, and she's significantly younger than me." She then looked at Dunham and said, "Do you even like men? Are you interested in men?" "It was the best thing," said Dunham. "Diane Keaton straight-up was just like, Oh, there's a lesbian, and I'm Diane Keaton, so I don't even need to beat around the proverbial bush. I'll just let her know.
Apatow saw the incident in a characteristically self-deprecating light, saying, "That may be more about Diane Keaton's judgment of me and my ability to bring a woman."