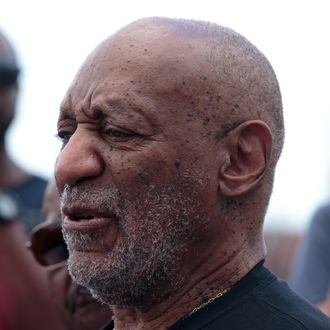 Bill Cosby.
Photo: David A. Smith/2015 Getty Images
A day after unsealed court documents revealed unsettling facts about the brewing Bill Cosby sex-abuse scandal(s), Disney has added itself to the growing list of brands cutting ties with the comedian. The Orlando Sentinel reports that Disney's Hollywood Studios theme park confirmed plans to take down its bust of Cosby after the park closed Tuesday night. A Change.org petition, addressed to the Walt Disney Company and calling for the removal of the statue, had been gathering signatures for more than half a year online.
"In light of recent circumstances it is prudent that the bust of actor Bill Cosby be removed," the petition (reportedly started by a niece of one of Cosby's alleged victims) read. "The Disney name is synonymous with family-friendly entertainment and with Mr. Cosby in the media daily facing accusations of sexual assault with the number of victims ever-climbing, it is inappropriate for Disney Parks to have a replica of Mr. Cosby's likeness on display." The bust, which stands in Disney's Academy of Television Arts and Sciences Hall of Fame Plaza among those of Lucille Ball, Oprah Winfrey, and other entertainment luminaries, was erected to immortalize Cosby as an influential performer.
But now change is on its way:
In similar Cosby news: It was announced earlier Tuesday that Centric and Bounce TV would be pulling reruns of Cosby's shows. The Washington Post also noted that Ben's Chili Bowl, a Washington, D.C., eatery long linked to the celeb, had taken his picture off its wall and appeared to be excluding Cosby from the opening of its newest location. NBC News points out that all of the brand damage control comes amid an alleged attempt to release the full deposition from the 2005 case that set off this recent firestorm. The attorney for the main plaintiff in the suit is reaching out to 13 other women from the case to make sure they're okay with that first, according to NBC.