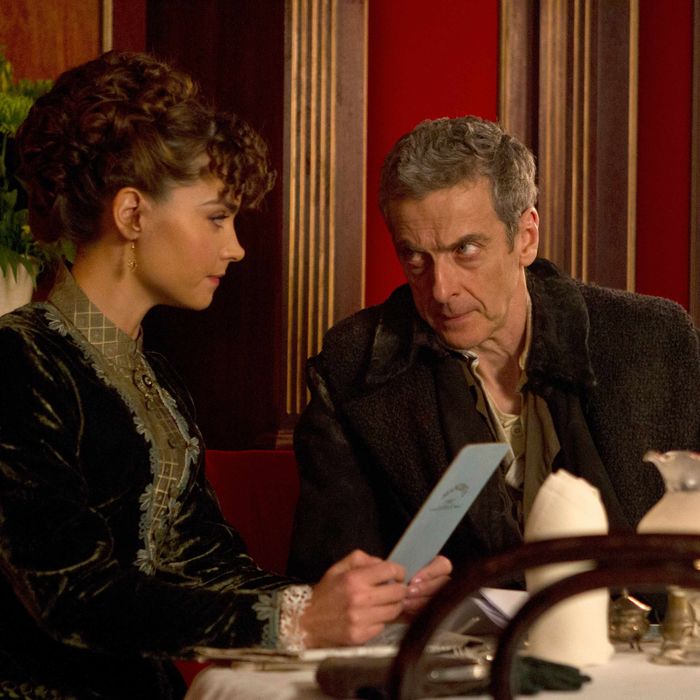 Doctor Who and Sherlock showrunner Steven Moffat isn't known for subtlety, but even longtime fans seemed a little startled by his response to a fan's question about gender today. At a packed Doctor Who panel in San Diego Comic-Con's massive Hall H, he gave a confrontational answer that could be interpreted as ruling out a female Doctor on his watch.*
In Doctor Who's 52 years of existence, there have been 13 actors to play the Doctor, all of them men. Moffat, since he took over as showrunner in 2010, has introduced two male Doctors, and he's drawn regular criticism for sexist comments in interviews. (The Daily Dot's Aja Romano has a good summary of what he's done to irk fans.) During the question-and-answer session, a female fan directed a question at the four panelists: Moffat, current Doctor Peter Capaldi, and series regulars Jenna Coleman and Michelle Gomez. "What are your opinions on eventually having a female Doctor?" the woman asked, to wild applause and cheers from the crowd.
Moffat was the first to answer:
"Well, I think my opinion is fairly obvious from the show, isn't it? What [do] I think about the possibility and whether it would work or not? I think I've expressed myself about as clearly as I could, in the context of the show. If you're not reading the subtext, then I'll lend you. But believe me, some people aren't reading that subtext, 'cause it's too subtle."
There were murmurs of disapproval from the crowd, and Gomez tried to lighten the mood by adding, "Yeah, and I'm not going to reveal myself as a man today." When moderator Chris Hardwick posed the female-Doctor question to Coleman, she said she's "sure it will happen at some point" and that "it's just about casting the right actor."
Capaldi broke the tension, smiling and saying, "Maybe I should do a drag episode." Moffat didn't offer any opinions on whether he thinks magical, British-accented, time-traveling aliens can be cross-dressers.
*A previous version of this article said Moffat's answer was a definite "no" about a female Doctor. However, other observers interpreted the opposite way: since Moffat's run on the show has shown a different member of the Doctor's species changing gender during a resurrection (specifically, Gomez's the Mistress), he may have been saying he's opened the doors for a female Doctor. Moffat framed his comment as wholly unambiguous, but it turns out to have been anything but.