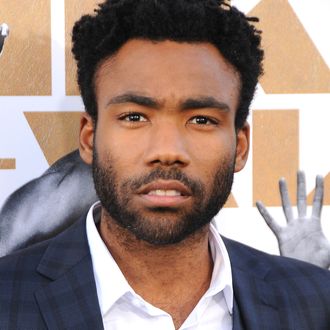 Bringing some magic to FX.
Photo: Barry King/2015 Barry King
Almost two full years ago, we learned that Donald Glover was developing a show for FX called Atlanta. We almost totally forgot about it until late last year, when we learned the Community dropout would be shooting a pilot for it. FX announced on Thursday that they've cast the rest of the roles and that the pilot would be directed by Hiro Murai, who's best known for directing music videos for Spoon, Earl Sweatshirt, and, of course, Childish Gambino. In addition to Glover, who stars as Earnest "Earn" Marks, an aspiring rapper who returns to Atlanta with his tail between his legs, only to find his cousin Alfred Miles suddenly blowing up in the hip-hop scene. Alfred will be played by Brian Tyree Henry, who is currently in HBO's Vice Principals, and also has Broadway cred as the General in Book of Mormon. Joining them are Lakeith Lee Stanfield as Darius, Alfred's right-hand man, and Zazie Beetz, who's in a "complicated relationship" with Earnest. (Isn't that always the case?) No doubt because Earnest is working an "unglamorous" job: May we suggest stripping and/or crooning instead?