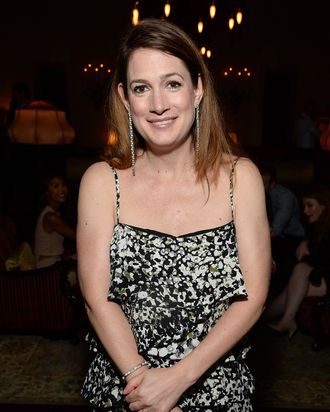 Photo: Michael Kovac/WireImages
Last January, a major movie package was announced with some high-profile principals attached: David Fincher had come onboard to direct Ben Affleck in a remake of Alfred Hitchcock's Strangers on a Train, this one casting Affleck as an Oscar-campaigning movie star who gets embroiled in a murder plot. Even better, the film would be scripted by Gillian Flynn, who worked malevolent magic with Fincher on their movie Gone Girl. Since that announcement was made, though, Affleck's Batman-studded dance card has quickly filled up with other movies, while both Fincher and Flynn have both lined up several new projects. What does that mean for their Strangers remake?
We asked Flynn about it last night at the Chateau Marmont, where she was attending a party for the movie Dark Places (based on her book), sponsored by Apothic Wines and Svedka Vodka. "We're all so overcommitted right now that we'll see on that one," she said, admitting that she's got the next year of her life pretty much booked up. Right now, she and Fincher have relocated to Los Angeles to work on their coming HBO series Utopia, which Flynn described as "a dark conspiracy thriller based around nerds who find a graphic novel that may or may not be telling bad secrets to the future." Then, in the fall, Flynn will work on the film Widows for director Steve McQueen. "I cannot wait," she said. "It's based on the BBC series that Lynda LaPlante wrote, it's the series she did just before Prime Suspect. It's so much fun, it's about mob widows who come together and pull off the heist that their husbands couldn't. But it's not told in a remotely wacky or, Oh, we're girls, how do we do this? way. It's hard-core. They're clearly the brains behind the thing." And that's why it'll take a little while before you get to meet the new Strangers.