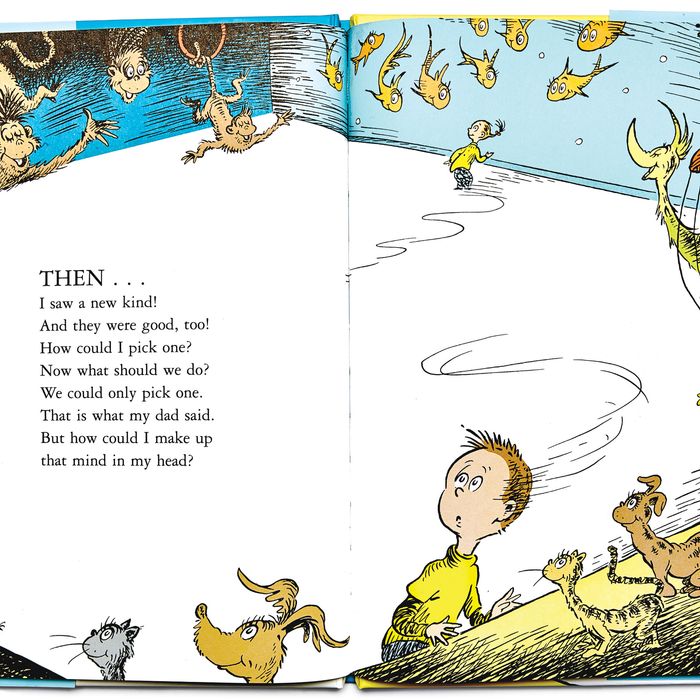 How one of the author's original sketches was turned into finished pages.
Photo: TM and © Dr. Seuss Enterprises, L.P. 2015. All Rights Reserved
"I don't really believe in this stuff," says Cathy Goldsmith, "but I feel like sometimes he sends me answers when I'm stuck." Goldsmith, the associate publishing director of Random House's Golden Books Young Readers Group, was the last editor to work with Theodor Geisel, a.k.a. Dr. Seuss, before he died in 1991. In 2013, when his widow found the sheets of a complete book, What Pet Should I Get?, Goldsmith was charged with figuring out how to publish the work. In shepherding along the book, which will be available on July 28 and has a first print run of a million copies, Goldsmith relied on her knowledge of Seuss's preferences on everything from endpapers to punctuation. Here, she explains how one of the original sketches was turned into finished pages.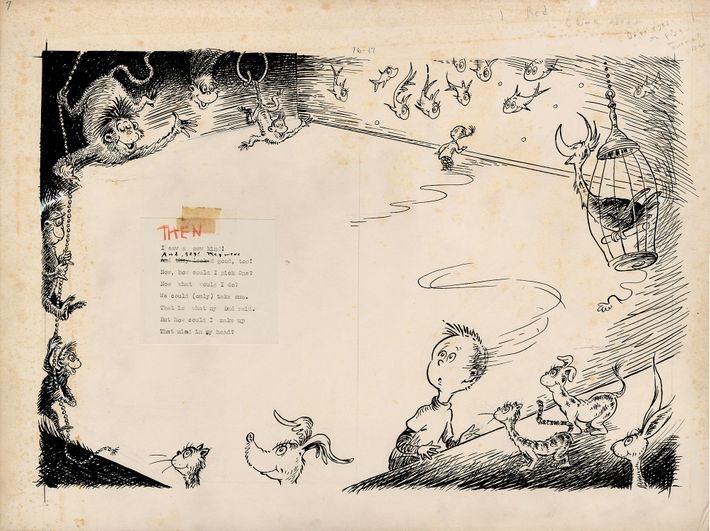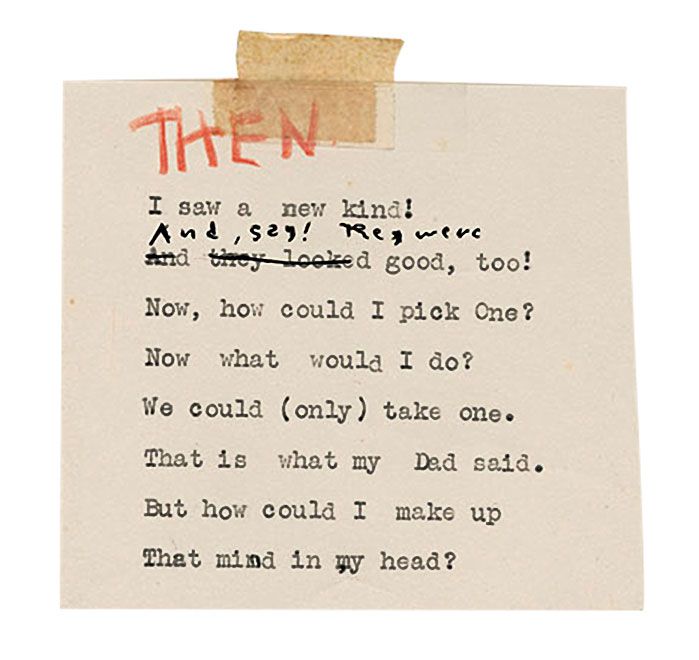 The Words
Goldsmith adopted one of Seuss's handwritten edits ("were" for "looked") but ignored the rest, then deleted "now" from the next line. "He didn't deliver this and say it was perfect," she explains. Little cuts were made to omit needless syllables and help things flow. "If we can see a way to get the extra beats out and keep the message the same, we try to do that."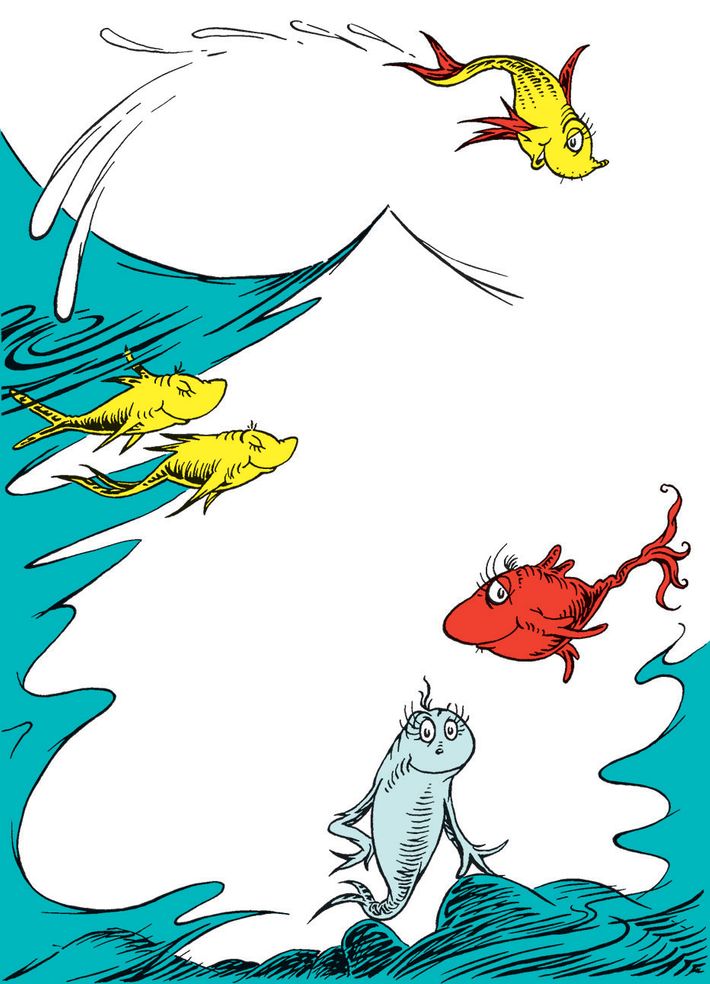 The Colors
All the objects, including the water and birdcage, are variants on the warm red, teal, and pale yellow of 1960's One Fish Two Fish Red Fish Blue Fish, which features the same brother-sister protagonists. But the colors are actually blends of cyan, magenta, yellow, and black that had yet to be developed for wide use when Seuss was likely working on the book.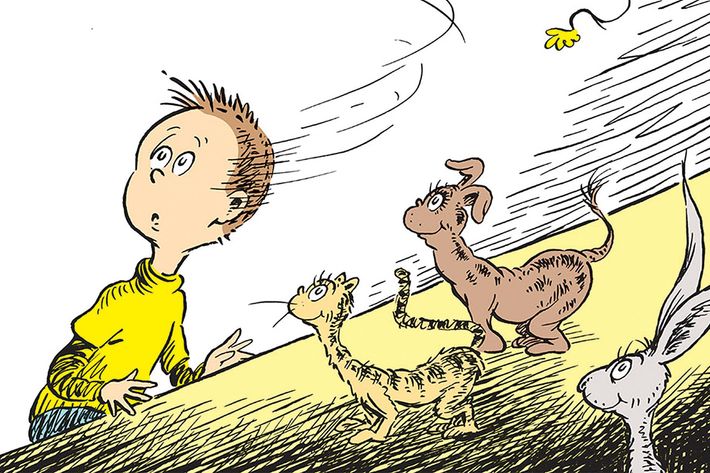 The Animals
The dogs and cats in the book are all uniquely colored. "The concept of the book was picking out a pet," says Goldsmith, "so it would be a good idea not to have cats and dogs be the same." Not so for some other animals. "I didn't think we could have the monkeys in different colors because, as far as I know, monkeys come mostly in brown." The many realistic pets in What Pet also drove Goldsmith to deploy a full and organic palette of colors.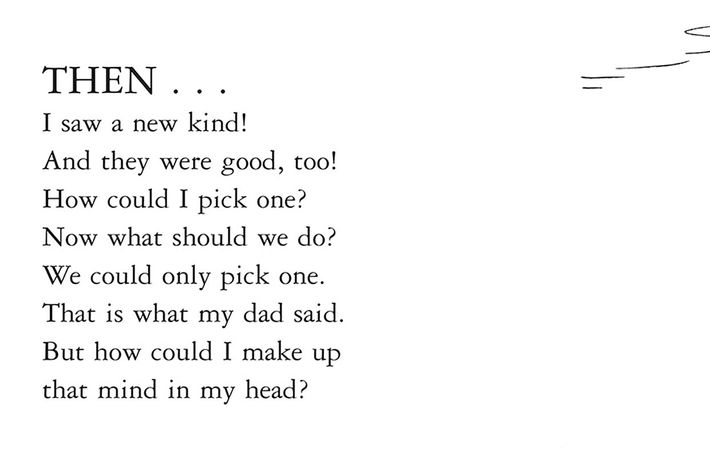 The White Space
"The man was not afraid of white space," says Goldsmith. "He did not dislike it, and I love him for that." Seuss's comfort with placid areas of the page is at odds with prevailing trends in children's books. "Today's writers want everything filled up," Goldsmith adds.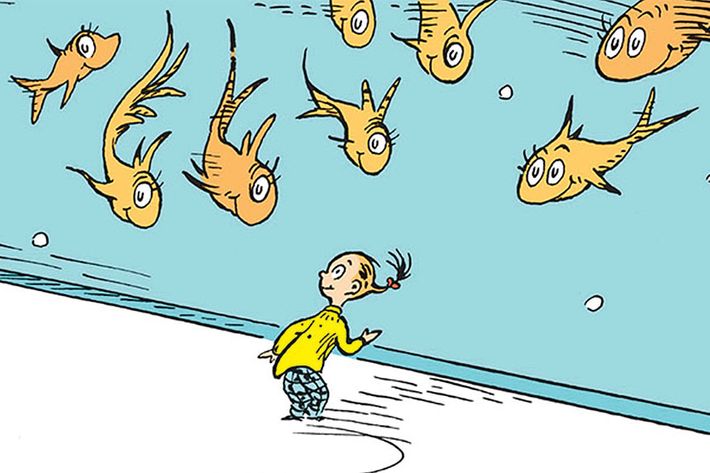 The Chronology
In One Fish, the children's yellow shirts are the only human elements colored in; flesh tones weren't commonly done at the time. The idea to add colors to people and pets came from the collection Seuss-isms, in which illustrations from different decades were put on facing pages. The uncolored work "looked odd when it was next to later art," says Goldsmith.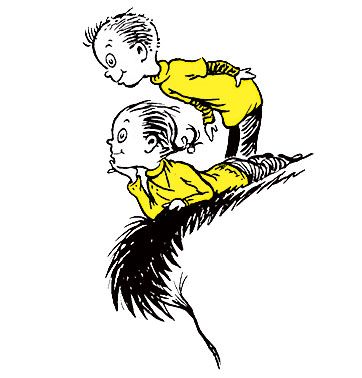 The Kids
The fact that this book depicted humans drawn by Seuss made it relatively easy to place within his aesthetic chronology. "He didn't like drawing kids," says Goldsmith, "which is why, in the '70s, where there are actually kids in his books, other people illustrated them."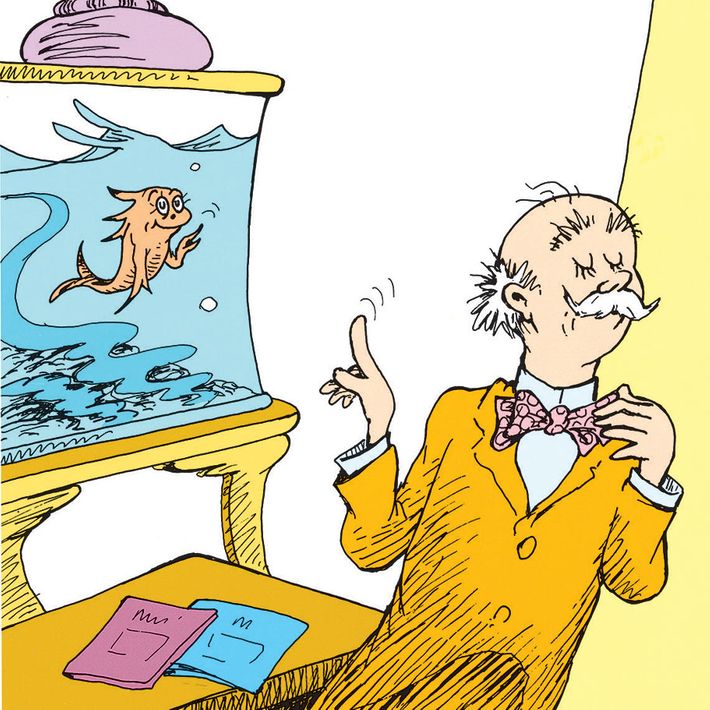 The Precedents
Often, there were color choices found in other books that featured similar species. These orange fish look a lot like those in You're Only Old Once! — a book that also has white bubbles in blue water, as seen here.
*This article appears in the July 27, 2015 issue of New York Magazine.