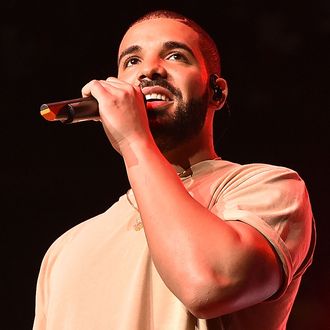 It's not over yet.
Photo: Paras Griffin/Getty Images
Tuesday night, Nicki Minaj's Pinkprint Tour rolled into Toronto. And it looks like Toronto city councillor — and public Drake stan — Norm Kelly alerted the 6 God because, in the wee hours, Drake dropped yet another Meek Mill dis record. Appropriately titled "Back to Back Freestyle" (and using a cover photo from Joe Carter's World Series–winning home run against the Phillies in 1993, to really drive the point home), this time Drake turns his attention to Nicki:
You love her, then you gotta give the world to her
Is that a world tour or your girl's tour?
I know that you gotta be a thug for her
This ain't what she meant when she told you to open up more
Yeah, trigger fingers turn to Twitter fingers
You getting bodied by a singing nigga
I'm not the type of nigga that'll type to niggas
Shout out to all my boss bitches wifing niggas
Make sure you hit him with the prenup
Then tell that man to ease up
This new dis record comes days after Drake first responded to Meek's ghostwriting accusations in a track released last Saturday. Since then, Meek has yet to respond; he failed to show up to an interview with Hot 97's Funkmaster Flex on Monday and later laughed it off. So who's currently ahead in this rap beef for the Twitter ages? Meek Mill: 0; Drake: 2; Nicki Minaj: 1,000,0000.