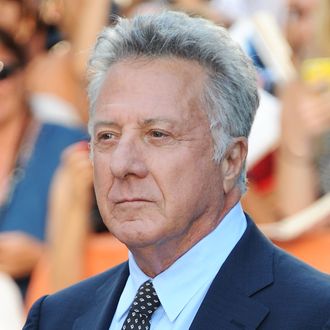 Don't hassle the Hoff, man.
Photo: Angela Weiss/Getty Images
In an interview with The Independent, Dustin Hoffman claims that the film industry has reached its artistic nadir. "I think right now television is the best that it's ever been and I think that it's the worst that film has ever been," the former Luck star told the British paper. "In the 50 years that I've been doing it, it's the worst." Why? The answer, as always, is plastics. Movies based on toys and video games are dominating the screen, and there's little money left for small-scale dramas. "It's hard to believe you can do good work for the little amount of money these days," Hoffman recalled. "We did The Graduate and that film still sustains, it had a wonderful script that they spent three years on, and an exceptional director with an exceptional cast and crew, but it was a small movie … and yet it was 100 days of shooting." To prove his point, Hoffman went back in time and starred in The Cobbler and Little Fockers.