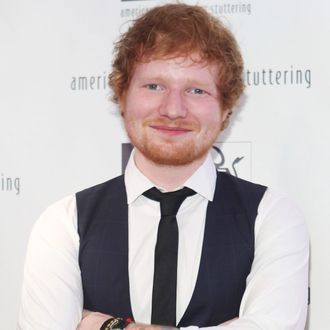 This casting is sheer-insanity!
Photo: Steve Zak Photography/Getty Images
Ed Sheeran is gunning for that Outstanding Guest Actor Emmy: According to THR, the ginger crooner has taken a recurring role in Kurt Sutter's upcoming Bastard Executioner, a medieval drama set amid the violent rebellions of 14th-century Wales. Sheeran will play "an ambitious and deadly protégé of a high-ranking church elder," which makes it sound like he will almost certainly come to an unspeakably grisly end. If you're wondering how Ed Sheeran ended up in a prestige cable drama, it helps to know that he was a very public fan of Sutter's Sons of Anarchy and even contributed a song to that show's soundtrack. Sheeran also showed up on Sesame Street earlier this year, an appearance that was slightly more on-brand.