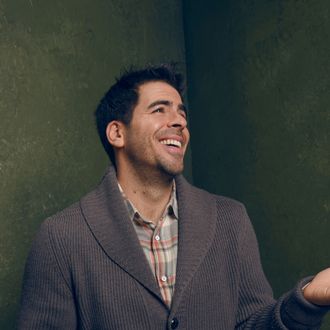 Photo: Photo by Larry Busacca/Getty Images
Eli Roth may be known as the guy who takes perverse glee in mutilating human bodies in his films (he is, after all, the guy who ostensibly created "torture porn"), but you may not know that he also has a soft spot for sharks. He's working on a shark movie right now, Meg, an adaptation of Steve Alten's 1999 best-selling novel "about a giant megaladon shark that escapes from the bottom of the ocean and wreaks havoc on the ecosystem," which he sees "as an opportunity to re-educate and re-brand scary sharks in movies." It will purportedly make use of CGI sharks instead of real ones (feeding actors to sharks is banned by the Actors' Equity Association). But Roth's love goes beyond the artifice of CGI sharks in horror movies; he was asked to swim with real sharks for Discovery Channel's beloved Shark Week. Speaking with Vanity Fair, Roth discussed his adoration for the deep-sea carnivores. "I felt like a kid going to Disney World for the first time," he said, when asked what it was like to swim with the sharks:
I have seen a lot of terrible CGI sharks in movies, but now just ten feet away, they actually looked like CGI characters. They were beautiful, graceful, elegant creatures, much different from the ones I take meetings with at Soho house. At first the sharks kept a safe distance from me - circling, watching from afar, reading the vibrations of my heartbeat. In my mind I was of course trying to use the shark telepathy I'm convinced I've have since birth to let them know that I was a friend and they should come over. Slowly, they circled and passed, and eventually swam right at me.
Roth has also become an activist for sharks, speaking out against the "disgusting" practice of killing the creatures, via the Huffington Post:
Humans have decimated the shark supply. Think about this: There are probably five people annually in the entire planet that die from sharks. Humans kill 100 million sharks annually, and you know what for? Shark fin soup.
You can watch Roth swim with sharks on Shark Week, which begins tonight.