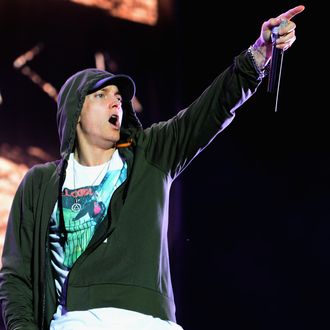 Eminem.
Photo: Theo Wargo/2014 Getty Images
"No wonder you scoff at me, it's obvious I'm as off-putting as Bill Cosby is," Eminem rapped near the end of a lengthy freestyle on "Sway in the Morning" on Thursday. Done completely a cappella, the freestyle was six minutes of pure Eminem: verbally intricate, with rapid-fire lines spat out as if from a pop gun, and laced with vulgar references to celebrities both major and minor. (Even former journeyman NFL quarterback Byron Leftwich earned a name check.) But one line in the rap stuck out, and it highlights the way the cultural conversation has changed since Em's turn-of-the-century peak.
From the start of his career, Eminem has positioned himself as pop culture's unofficial court jester, each of his obscenities striking a blow against rigid standards of propriety. It was easy to caricature his critics — the religious right, humorless feminists, oversensitive suburban parents — and who cared what they thought? They were just looking for reasons to be offended. But in the decade-plus since, the tide has shifted — quickly. (In 2004, when Eminem released Encore, his last "peak" album, voters went to the polls to ban gay marriage; this year, the Supreme Court ordered it the law of the land.) We're currently living through an era of proud tolerance and acceptance when it comes to gay rights and trans issues, and a list of things you shouldn't say now feels like respect, not censorship.
Into this atmosphere comes Em's freestyle, with its rhymes on Caitlyn Jenner. "I invented prick and that's a true statement / I see the bitch in you, Caitlyn," he rapped near the end of the segment. "Keep the pistol tucked like Bruce Jenner's dick." Then: "No disrespect, though, no, not at all. No pun intended, but that took a lot of balls." Compared to the other celebrities named, Jenner got off comparatively easy, but that didn't stop the line from making headlines all over the Internet about how the rapper had "slurred" Jenner. (Eminem's lines about beating Miley Cyrus did not warrant the same attention, possibly because that's a conversation we've been having for over 15 years now.) Thanks to a concerted education effort, we now know how harmful it is to call trans people by their old names, and as people like Katie Couric have learned, talking about trans people's genitals is exactly as rude and intrusive as asking cis folks about theirs. Jenner has repeatedly assured us that she can take any mockery that comes her way, but (for good or for ill) she's become the poster girl for trans rights in our culture, and we all feel a little protective of her. It can all seem very self-congratulatory at times; hey, that's just part of progress.
At the end of his rap, Eminem offered a preemptive apology: "I just say shit to say it. It's rarely personal … it's all in fun." This used to be part of Eminem's shtick: He would say something crazy, certain people would get mad, and everyone else would laugh. But we've evolved into a more enlightened culture, one in which we're more mindful of looking out for certain people. These days, there are fewer laughs to be had from Eminem's idea of fun.